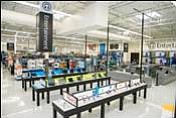 Walmart today announced it expects to spend an estimated $56 million over the next year in Illinois through the remodeling of 16 stores as well as the rollout of several in-store and online innovations designed to help busy customers save time and money.
The spend is part of Walmart's total capital expenditures guidance of approximately $11.0 billion for Fiscal Year 2019, which was outlined last October at the company's annual meeting for the investment community and reiterated in February 2018.
Walmart recently reported strong comp sales growth of 2.1% for the fiscal year ending Jan. 31, 2018, indicating customers are responding well to the company's business strategy. The plan is to continue improving stores and accelerating innovation during the coming year to make shopping faster and easier for customers in Illinois.
"At Walmart we are always looking for better ways to serve our customers, both in store and online, and these innovations help us do just that,"
said Walmart Vice President and Regional General Manager Dale Murphy.
"We're committed to the communities we serve across Illinois and are excited about the innovations coming to our stores."
2018 Walmart Store Remodels in Illinois
Walmart plans to remodel stores in the following locations:
2424 W. Jefferson St., Joliet

7050 S. Cicero Ave., Bedford Park

1450 E. Main St., Carbondale

2610 N. Prospect Ave., Champaign

4700 135th St., Crestwood

1205 S. IL Route 31., Crystal Lake

4224 N. Prospect St., Decatur

2300 Sycamore Rd., DeKalb

401 River Rd., East Peoria

1205 W. Ferdon St., Litchfield

101 Dettro Dr., Mattoon

333 E. US Route 6, Morris

9265 159th St., Orland Hills

8915 N Allen Rd., Peoria

6800 W. US Highway 34, Plano

2760 N. Dirksen Parkway, Springfield