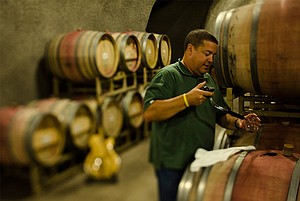 By Dwight Casimere – wine@thetimesweekly.com
Spring is finally here. It's time to welcome a wine that ushers in the
season with style. Miner Napa Valley Chardonnay 2016 ($32) is a perfect
example of everything you'd expect in a Napa Valley Chardonnay and more. It
has all of the classic earmarks; buttery and elegant, it is bursting with
crisp Delicious Apple, ripe melon and citrus flavors of pineapple, mandarin
orange and a splash of Meyer lemon. There's a light hint of Tahitian
cinnamon from French Oak aging, but its so beautifully incorporated that
you hardly notice it. This is the wine that put Miner on the map, and
rightly so.
Miner Family Winery is a relative newcomer as things go in the
valley, but its genesis is steeped in valley history and pedigree. Founder
David Miner got his start as President of Oakville Ranch Vineyards, which
was owned by his late uncle Robert Miner. Miner Family Winery was born in
1996, when David decided to become a custom crush client of the winery and
start his own label. Emily Miner, a graduate of Santa Clara University,
becomes tasting room manager at Oakville where she and David met and fell
in love. In 1997, Joseph Phelps alum Gary Brookman comes on board as
winemaker and the rest is history. The winery's aging caves are carved out
of the hills above the Silverado Trail in the heart of the Napa Valley, and
after a 15 month process and a year of celebrations, Dave and Emily marry
and the winery issues its first wines under its own label. Hallelujah!
If I'm not grilling, I love to make one pot meals in my slow cooker. One of
my favorites is pan seared boneless chicken thighs with fresh herbs from
my garden. Almost any variety will do, its your choice, I prefer oregano
and thyme. Add a mix of multi colored carrots, chunks of red and yellow
onions and shallots, a couple of cloves of garlic and a half cup of the
Miner Chardonnay and let cook for an hour or two while you enjoy a
leisurely glass of Miner Chardonnay. A side salad of mixed Organic Spring
Greens with added Arugula, slices of avocado, a handful of crumbled goat
cheese and a dressing of lemon juice and garlic infused Extra Virgin Olive
Oil and you've got an al fresco lunch that will have your neighbors
attempting to climb the fence to join in the party.