Final Day Newport Jazz Festival
FINAL, DAY THREE OF 2018 NEWPORT JAZZ FESTIVAL ENDS WITH MUSICAL FIREWORKS | 8/9/2018, 5:30 p.m.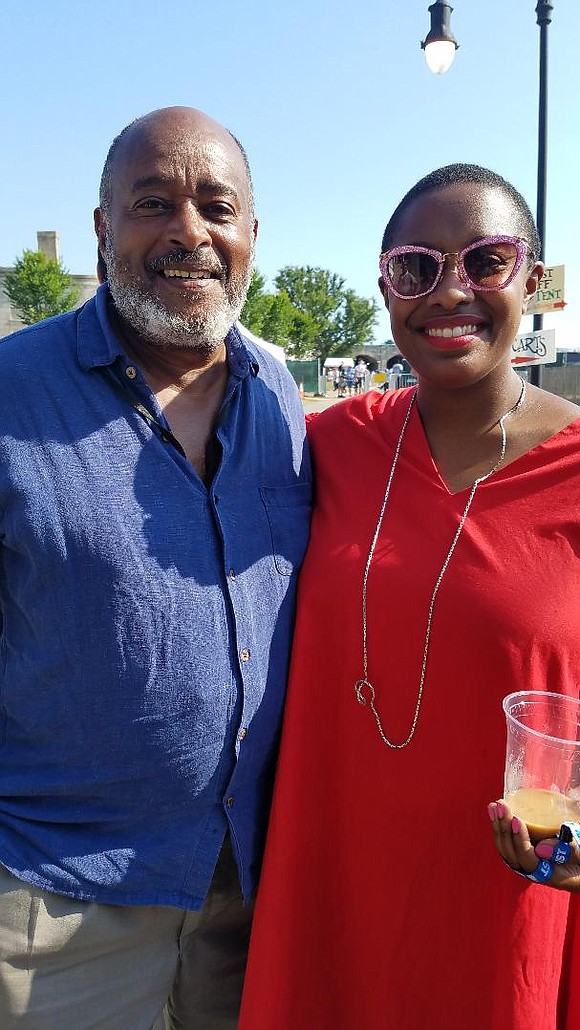 Artemis, the all-female musical ensemble led by brilliant pianist and composer Renee Rosnes featured Melissa Aldana on Saxophone, Anat Cohen, clarinet and reeds, Noriko Ueda, Bass, Ingrid Jensen, trumpet and Allison Miller on explosive percussion electrified the Newport Jazz Festival's final day. The icing on this all-female celebratory cake was a vocally superlative Cecile McLorin Salvant, who proved with her artful phrasing and towering jazz vocal improvisations, that the human voice is just as potent a musical instrument as any of those assembled onstage. The group's collective effort on Monk's Brilliant Corners, set the tone for the performance under blazingly beautiful summer skies, with the ambiance of boats in the harbor serving as the backdrop to a delightfully swaying capacity crowd.
Savant, looking slim and lovely in a simple white summer linen dress, laid claim to her own musical legacy, with a tribute to Billie Holiday, singing Fine and Mellow, a simile that can easily be applied to Ms. Salvant.

Artemis similarly gave musical flight with takes on the Beatles (Fool On The Hill) and an appropriately innovative take on Stevie Wonder's If It's Magic, creating a musical alchemy all their own.
Eclectic saxophone and reed legend Charles Lloyd celebrated his 80th birthday in three separate incarnations. In his second outing on the Fort Stage in driving rain, he presented a riveting set highlighting his New Quartet, the ground-breaking pianist and music historian Jason Moran, Bassist Reuben Rogers and drummer Eric Harland. Lloyd, a devout Yoga practitioner, contorted his tall, lean form about the stage as he wove his unique musical tapestry with threads of past icons, Prez, Hawk and Trane, with his own brand of musical mysticism and flights of fancy. Moran was the commander of the ensemble's ship, keeping apace with the quixotic twists and turns of Lloyd's flashes of current genius and fleet ing remembrance. No other saxophonist, save the great John Coltrane himself, were he still in corporeal form, could have given such an all-encompassing and thoroughly enthralling career recital.
Avant-garde vocalize high priestess Lucinda Williams lent her whalloping yelps and free-form scat to add a proper note of unabashed gaiety to Charles Lloyd's 80th Birthday Celebration. It was the equivalent of a New Orleans Second Line, Delta Blues wail, and Primal Scream, all combined with the forces of an intergalactic band playing celestial instruments!
Gregory Porter lent his stentorian baritone to the afternoon, also on the Fort Stage, with some uptempo recreations of his many original hits; Take Me To The Alley, among the most notable.
The Festival ended on a decided note of funk, with the explosive George Clinton and Parliament Funkadelic bringing the entire Fort Stage crowd to their feet for a swinging, Funk and Hip-Hop crescendo. Only one sad note marred the afternoon, Clinton's announcement of his retirement from the performance stage in the coming year. Not a very bright prospect for music lovers in the New Year. When Clinton played Chicago's Navy Pier New Year's celebration a few years ago. The night ended with post-performance fireworks. That would have been a fitting sendoff for Clinton and the Funkadelic at this year's Newport, considering his impending retirement and the likely prospect that he will never play the festival again. One could hear the musical celebration clear across the Bay in Newport Harbor, following the Ferry Ride to Bowen's Wharf. Yeah. There should have been fireworks for this one. George Clinton and the crowd would have loved it.