Letter to the editor: Joliet Central fall band concert
12/5/2018, noon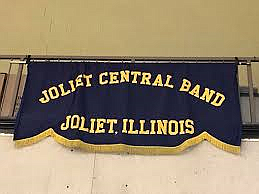 Joliet Township High School Central campus held its Fall Band Concert on Sunday, November 18, 2018 with sponsorship courtesy of the Joliet Township High Schools Foundation.
Kudos to director, Don Stinson and to his students! The concert was filled with outstanding student talent. Noted during the performance was that some students were those that had never taken up a study of any instrument prior to the start of the school year and other students that were asked to switch to a different instrument than the one they previously played, due to Mr. Stinson requesting that change of instruments to achieve a better balance in the bands, both concert and/or symphonic bands.
Selection included, but were not limited to "Parade of the Wooden Soldiers" a song from "The Polar Express," and "Bugler's Holiday."
A special presentation was a salute to Veterans and our basic beliefs entitled "Duty, Honor, Country," narrated by Retired Major Philip Jayko, JTHS's Military Science Senior Army instructor.
Another guest presenter was Dr. Leah Schuman, a professor of trumpet at Vander Cook College of Music in Chicago. Dr. Schuman brought her trumpet to life, especially during "Grand Russian Fantasia" and "Buglers Holiday," where she was joined by Mr. R. Scott Barnes, band director at Washington Junior High, Don Stinson, director, and guest conductor, Mr. Peter Lipari, Director of JTHS Orchestras.
Entertainment such as this band concert demonstrates, not only the quality of the JTHS Band Program and its talented students and dedicated staff, but also shows us what a wonderful local public educational system we enjoy.