Wine of The Week: Prosecco with Villa Deli Olmi - $12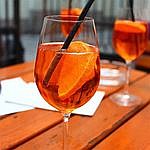 wine@thetimesweekly.com
As the Holidays approach, there are myriad celebrations great and small in the offing. Almost any time of day offers an opportunity to celebrate with family, friends and co-workers. Special considerations abound such as lunch with the boss, a short cocktail celebration at the office and a celebratory cocktail or buffet dinner after work. All of these situations call for something light, economical and versatile. In a word, Prosecco is the perfect solution and as far as the Holidays are concerned, its always Prosecco O'Clock!
Let's take a few office scenarios such as lunch with the boss. Office culture has changed so its perfectly acceptable to have a glass or two of wine in the middle of the day. A glass of Prosecco, at an average of 11% alcohol, is light enough so that you won't get typsy and nap through the rest of the workday. It may also relax tensions and lead to some productive and congenial conversation. After work with co-workers; the Italians like to relax with a light, bittersweet Prosecco cocktail called the Aperol Spritz. It's a beautiful sunset colored drink that visually symbolizes the end of the workday. (Recipe to follow this article). It can be enjoyed with a mixed bag of appetizers, such as various cured meats and a variety of cheeses or light bites and finger foods such as mac n'cheese cups, chicken fingers and pizza squares.
Family gatherings are a breeze with Prosecco, because its light and goes with just about anything. In addition, the flavor profile is bound to please even the most finicky palate.
Villa Degli Olmi Prosecco Extra Dry and Spumante Extra Dry DOC, both about $12, present the perfect solutions. Villa Degli Olmi is one of northern Italy's most respected family owned and operated wineries. Located in the Venezia region of northern Italy, near Venice, an area known for producing elegant, well-balanced wines, Villa Degli Olmi is renowned for its Prosecco. Both have a delightful pale straw color that is appealing to the eye. Once opening the bottle, the pleasure ride begins. Prosecco Extra Dry is made from 100% Glera grapes, the flagship of all great Prosecco. The flavors of white peaches, pears and aromas of white Acacia flowers and orange blossoms, makes this a welcome refreshment at any time of day. Served with seafood, light salads and assorted soft cheeses, its a delightful way to start the meal or to end the day. Prosecco Spumante Extra Dry DOC has just a hint of sweetness that invites casual conversation. Great on its own or in a cocktail, it's an unobtrusive guest for an afternoon or evening of casual conversation. Try it the next time you're at the Sushi Bar (hold the Wasabi!) or Raw Bar with a dash of Tabasco or Horseradish on the side. Now for that Aperol recipe:
THE PERFECT APEROL SPRITZ
3OZS VILLA DEGLI OLMI PROSECCO
2 0Z APEROL (its made by the same folks that make the more familiar CAMPARI, available at most wine and spirits shops)
A splash of chilled soda water
1 orange slice for garnish
P.S. Aperol is a touch bitter, so I add a dash of Triple Sec to give it a little extra kick and a touch more sweetness