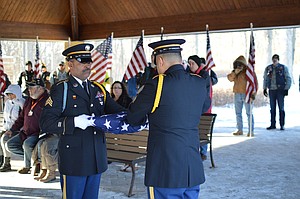 With temperatures not much above zero, it would have been understandable if only a hearty few turned out to pay their final respects to Wallace Boyd and Melvin Harris.
Both army vets were homeless when they died; neither had family or friends that anyone could find for a service.
Wallace Boyd served in the army from 1964-1970. Melvin Harris from 1978-1982. That was as much as anyone knew about them but their service was enough to draw several dozen volunteers from various veterans organizations around Will County to pay their respects at Abraham Lincoln Cemetery in Elwood a couple of days after Christmas as wind chills reached sub-arctic temperatures.
George Sanchez, a chaplain with the 11th District American Legion and American Legion Post 52 in Romeoville, was surprised by the strong turnout saying that on some occasions only a handful show up to pay their respects.
"Our veterans, once they've served, the least they deserve is honors," he said.
"And if they don't have a family it's the duty of veterans to make sure that they receive all the honors they deserve."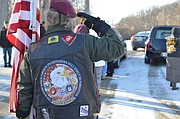 Jack Picciolo, who's attended over 80 of these services, said that for veterans without family, other vets step up to serve as their extended family so that they can receive those military honors.

In many cases, Picciolo said that the vets are homeless and living in Chicago when someone gets a call from the morgue. Like Mr. Boyd and Harris, they have little information about them and sometimes only find out they served after checking their social security records.
"We don't get a lot of information on their personal life, maybe just a name and rank and when they were in the service," said Picciolo who serves as the chair for the Will County Veteran's Assistance Commission.
He said that Dignity Memorial of Chicago provides the services free of charge and that veteran's organizations like the Wilmington VFW cover different days at Abraham Lincoln Cemetery.
"We have this group of people that come out and act as family," he said. That includes volunteers who serve as pall bearers and those that sit up front and accept a folded flag that gets draped over the casket before the ceremony.
Without the work of the volunteers, Piciolo said that the deceased vets would be buried without the military rites they earned.
"You can't have the firing squad and the flag folding unless the family requests it," he said.
Sometimes he said records will show the deceased's rank or where they were from but that wasn't the case for Wallace Boyd and Melvin Harris, he said.
"They could be from any town around here," he said, "but very seldom do we know anything about them except that they did serve."