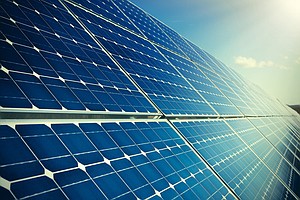 Will County was recently recognized for its efforts that are clearing the way for the growth of solar energy use in the county.
The International City/County Management Association gave Will County its Gold Designation just 5 months after it achieved bronze status for its work to increase the use of solar-produced energy.
According to a press release, the program is part of the SunShot Initiative and is funded by the U.S. Department of Energy.
The initiative aims to "drive down the cost and regulatory obstacles of home and business solar deployment."
So far, Will County is the only county in the state receive the gold status.
Will County Land Use Department director Curt Paddock said that the county has been working toward clearing road blocks from its ordinances and permit process to make the installation and use of solar more accessible for both home owners and businesses over the past 5 years.
He said it started with the adoption of an energy and conservation policy and has grown to include policy changes and efforts to "encourage the use of alternative, innovative forms of energy production."
He points to the county's work to create a 'gas to energy facility' at the county landfill which produces both energy and revenue as well as county-promotion of solar energy use, creation of a solar foundation program, and a more thorough streamlining of laws and permit ordinances.
"So it wasn't standing in the way a new, developing component of our economy," said Paddock in December.
Paddock said that the county is "always trying to assess and review our laws to make sure we are promoting development."
Will County Energy and Conservation Specialist, Sam Bluemer said that the department has also worked on ways to translate those uses for homeowners creating online resources that include online permitting and fee transparency information, instituting national best practices for the use of solar energy, creating tools for education and outreach, and providing online residential checklists and guides to help homeowners "deploy solar" at home.
Bluemer said that the county has its own dedicated page for the subject, the Will Count Solar source web page, which provides information on financing options, education on consumer protections as well as the availability of incentives through the federal and state governments and energy utilities.
"The whole point of this was to make our community ready for the anticipated growth of the solar industry," said Paddock who noted that the county is already considering a proposal for a large-scale solar farm.
"Will County got out ahead of the curve," he said.
"We are now very-well prepared to accommodate the anticipated growth in the solar industry."
For more information about solar energy in Will County visit: http://www.willcountyillinois.com/County-Offices/Economic-Development/Land-Use/Resource-Recovery-Energy/Solar-Source