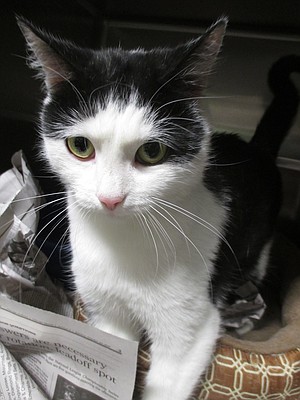 GILDA
Gilda is a very adorable, sweet and lovable girl, but is somewhat timid and shy. She warms up with quiet encouragement and a gentle touch. She's affectionate and likes getting treats. She'll "thank you" with a face rub. She may be ok with another gentle, good natured cat. She would do best in a
quiet forever home where people are willing to be patient until she comes out of her shell.
HILDA (cat)
Hilda is an adorable, amusing, energetic little kitten that finds fun in everything. Her best friend is a kitten named Somerset. They love to chase each other, wrestle, and sleep together in a laundry basket. They would love to find a forever home where they could be together. Hilda also loves
playing with and getting affection from people too. She'd make a great addition to any home.
Adoptions are held at the Bolingbrook PetSmart on Weber Road from 1-3 on Sundays and 5-7 on Wednesdays. If the cat you're looking for isn't there or those times don't work for you, please call Humane Haven Animal Shelter (630-378-4208) for more information or an appointment. All Humane Haven cats are spayed or neutered, microchipped, FeLV/FIV tested, and have their
distemper and rabies shots.
Website > http://www.hhas.org/home0.aspx
Phone > 630-378-4208
E-Mail > humanehaven@gmail humanehaven@gmail.com
Facebook >
https://www.facebook.com/pages/Humane-Haven-Animal-Shelter/118572284874476?fref=ts
PO Box: > P.O. Box 1070, Bolingbrook, IL 60440
If you're interested in becoming a volunteer, please contact us.
Website > http://www.hhas.org/home0.aspx
Phone > 630-378-4208
E-Mail > humanehaven@gmail humanehaven@gmail.com
Facebook >
https://www.facebook.com/pages/Humane-Haven-Animal-Shelter/118572284874476?fref=ts
PO Box: > P.O. Box 1070, Bolingbrook, IL 60440