Originally published 1/10/2018 at 10:06a.m., updated 1/11/2018 at 08:17a.m.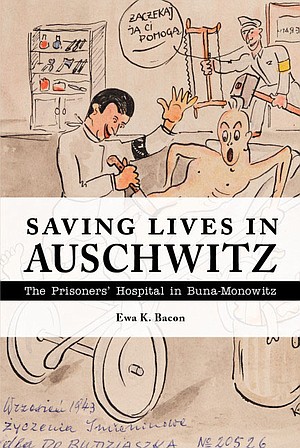 A powerful and profound look at a dark time in history entitled "Saving Lives in Auschwitz: The Prisoners' Hospital in Buna-Monowitz" by Dr. Ewa K. Bacon, professor emerita at Lewis University, has been re-issued in hardcover by Purdue University Press.
According to the review written by Mary Fulbrook, preeminent scholar in German history and Holocaust issues at the University College London, "This fascinating book recounts the little-known story of the prisoners' hospital at Auschwitz III camp for the Buna plant at Monowitz. Written by the daughter of the prisoner physician who transformed and built up this hospital the account is remarkable for its combination of scholarly objectivity and personal involvement."
In 2002, Bacon received the text of an oral interview which her father gave to the Oswiecim Museum (Auschwitz) in Poland in 1974. After translation, she began the systematic work of identifying every individual mentioned, developing an accurate view of the many separate camps that formed Auschwitz, and understanding the role of German Big Business and workers' issues.
"It is my background as a teacher and scholar that makes this book accessible and readable—the context in which this story takes place is clear and front and center," said Bacon. The book bears witness to the agency of prisoner doctors in an environment better known for death than survival.
The Wheaton resident taught history courses for more than two decades at Lewis University, including classes on Holocaust and Genocide. She received a bachelor's degree from Stanford University, a master's degree from the University of Chicago, and she holds a doctorate in history from the University of Chicago.
Lewis University is an innovative and entrepreneurial Catholic university offering market-relevant undergraduate and graduate programs to 6,500 students. Sponsored by the De La Salle Christian Brothers, Lewis University is nationally recognized for preparing intellectually engaged, ethically grounded, globally connected and socially responsible graduates. Visit www.lewisu.edu for further information.