Martin Luther King, Jr. was a champion for equity in education
By Stacy M. Brown - Contributor | 1/10/2018, 9:18 a.m.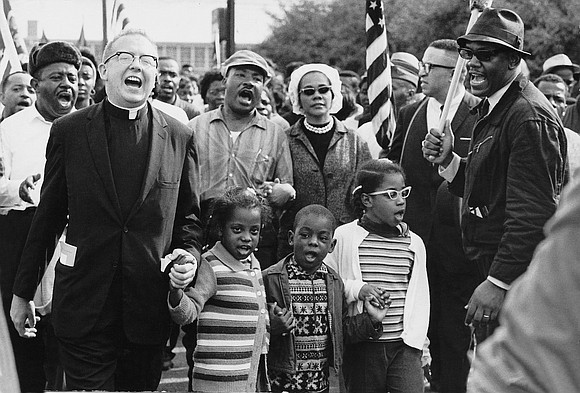 Dr. Martin Luther King, Jr.'s influence on the Civil Rights Movement is indisputable, but his fight for equity in education remains a mystery to some.
That fight began with his own education.
"He clearly had an advanced, refined educational foundation from Booker T. Washington High School, Morehouse College, Crozer Theological Seminary, and Boston University," said Reverend Jesse Jackson, Sr., the founder of the Rainbow PUSH Coalition. "His education in his speeches and sermons and writings were apparent and he wanted us all to have that type of education."
King completed high school at 15, college at 19, seminary school at 22 and earned a doctorate at 26.
"Dr. King laid down the case for affordable education for all Americans, including Polish children—from the ghetto and the barrios, to the Appalachian mountains and the reservations—he was a proponent for education for all and he believed that strong minds break strong chains and once you learn your lesson well, the oppressor could not unlearn you."
Rev. Al Sharpton, the founder and president of the National Action Network (NAN), said that NAN works with Education for a Better America to partner with school districts, universities, community colleges, churches, and community organizations around the country to conduct educational programming for students and parents.
"The mission of the organization has been to build bridges between policymakers and the classrooms by supporting innovations in education and creating a dialogue between policymakers, community leaders, educators, parents, and students," Sharpton said. "We're promoting student health, financial literacy, and college readiness in our communities, just like Dr. King did."
King was a figure to look up to in both civil rights and academia, Sharpton told the NNPA Newswire.
"Then, when you look at his values, he always saw education, especially in the Black community, as a tool to uplift and inspire to action," Sharpton said. "It's definitely no coincidence that a number of prominent civil rights groups that emerged during Dr. King's time, were based on college campuses."
Sharpton added that King routinely pushed for equality to access to education.
"Just as importantly, he always made a point to refer education back to character—that we shouldn't sacrifice efficiency and speed for morals," Sharpton said. "A great student not only has the reason and education, but a moral compass to do what's right with his or her gifts. It's not just important to be smart, you have to know what's right and what's wrong."
Dr. Wornie Reed, the director of Race and Social Policy Research Center at Virginia Tech who marched with King, said when he thinks of King and education, he immediately considers the late civil rights leader's advocating that "we should be the best that we could be."
"King certainly prepared himself educationally…early on he saw that education played a crucial role in society, but perceived it as often being misused," Reed said. "In a famous essay that he wrote for the student newspaper at Morehouse in 1947, he argued against a strictly utilitarian approach to education, one that advanced the individual and not society."