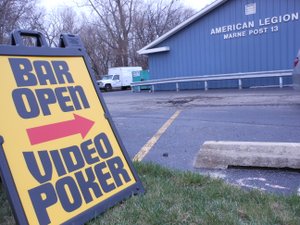 Not wanting to roll the dice on Plainfield's image as a family-oriented community, the Board by a 4-2 vote denied an ordinance that would have allowed video gaming at certain licensed establishments.
Voting against the measure were trustees Margie Bonuchi, Bill Lamb, Larry Newton and Brian Wojowski. Approving the proposal were trustees Cally Larson and Ed O'Rourke.
Prior to the vote, Richard Peterson, treasurer of the Plainfield Moose Lodge, made a case for why he wanted to see video gaming in his community. He said the Village of Plainfield not only loses the gambling dollars, but the money spent on beer and food when customers frequent establishments in neighboring communities that have gaming machines, such as Joliet which has 78 units around the city.
"Many of my 600-plus lodge members leave Plainfield and go elsewhere for video gaming," he said. "I want to keep my members in my lodge. I don't think (gambling) is a negative image."
But Lamb was not buying finances as an incentive for allowing gambling terminals inside Plainfield establishments. He said video gaming is not fair to businesses that are not restaurants or bars.
"We'll see number of businesses that won't benefit from this can even be hurt by it," said Lamb.
Based on what she has heard from constituents, Bonuchi said many are against gaming machines inside Plainfield businesses. She said some customers may even stop frequenting businesses that have gambling terminals.
"There are a lot of citizens who do not want any part of this," said Bonuchi. "It may even hurt your businesses. I think this is wrong for the Village of Plainfield."
But Larson retorted that it is not fair to compare "apples to oranges" as each business is unique in its own right and serves a different clientele.
Before the vote, Mayor Michael Collins made a case for why a decision needed to be made Monday night.
"This is the seventh time since 2012 that this has been discussed," said Collins. "We have kicked the can down the road for a while."
If it was approved, no more than five video gaming terminals at licensed establishment's premises would have been allowed at any time. Also, these terminals were required to be located in an area restricted to people 21 years of age or older, and the entrance to this section at all times must be within view of at least one employee who is 21 or older.