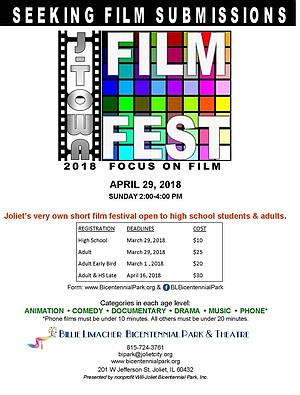 Joliet could be set to join the ranks of cities like Telluride, California, Park City, Utah and even Chicago, Illinois after it rolls out its first film festival this April.
The J-Town Film Fest is set to premier on April 29 at the Billie Limacher Bicentennial Park Theater with films from aspiring filmmakers from high school up through adult.
Park director Lori Carmine said that she had been thinking about hosting a film festival at the park's theater for a few years but didn't set the idea into motion until the summer of 2017. That's when Sheila White, a volunteer with Joliet Community Television said that the theater was a perfect spot for a fest.
White was helping students involved with the theater's summer drama club edit some videos at the time said Carmine.

"She said 'you know this looks like a great theater for a film festival' and I said I thought so too," said Carmine who said she's hoping that the event is a success and grows from year to year like similar big name festivals like Sundance.
"We're hoping this becomes an annual event," she said adding that she hopes like those other big name fests that it also encompasses other venues throughout the city at some point as well.
"But for now we're starting off small," she said, "I can't wait to see what we get."
The festival is looking for film submissions in the categories of animation, comedy, documentary, drama, music and, in a nod to the youngsters, films shot entirely with a phone.
"What they can do with filming on their phone and editing—it amazes me," said Carmine.
White said that she's been a volunteer with JCTV for about 5 years along with her son, Michael, who is a journalism student at JJC and runs his own local film and video production company, Road 2 Eternity.
Both said that they're excited to see the films that are submitted and the range of stories represented.
Carmine said that the Whites bring their expertise about film and video production and their knowledge of film festivals to the planning committee which also includes members of the City Center Partnership and the Joliet Public Library.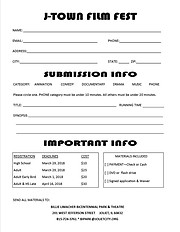 "There's a lot of people with good ideas and now we're in the same room talking about them," said Carmine who said that the festival will have its own dedicated website up this month and applications can be found on the park's website, http://www.bicentennialpark.org and its Face Book page.
The deadline for submitting a film for inclusion in the festival is March 29 for the adult and high school age categories; March 1 for the adult early bird entry; and late entries will be accepted until April 16.
The festival will be held April 29 from 2-4 p.m. at the Billie Limacher Park Theater in Bicentennial Park, 201 Jefferson St. in Joliet.