Joliet Police racing at the Dirt Oval Rt. 66
7/18/2018, 3 p.m.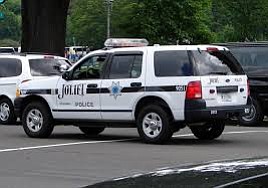 Thetimesweekly.com
The City of Joliet and the Joliet Police Department on Saturday, July 21, 2018 at 7p.m., team JPD will be racing other police departments at the Dirt Oval Route 66 Raceway to help raise funds for Special Olympics Illinois.
The Five-O at the Dirty "O" for Special Olympics and Illinois Law Enforcement Torch Run for Special Olympics fundraising event is a stock car race in which law enforcement officers from all across the state race stock vehicles decked out in their department's patrol colors and decals. Each officer must raise his own funds via donations to Special Olympics Illinois to participate.
For the second year in a row, Sergeant Lindsey Heavener will race in a car he modified and rebuilt with the help of his race team and the full support of Joliet City leaders. To help show your support, take a look at Sergeant Heavener's fundraising page and consider making a tax deductible donation.
The Pole Position is decided by the amount of money that each officer raises, and although each racer must only raise a minimum of $500 in order to race in the event, Sergeant Heavener has raised close to $20,000 in donations for the Special Olympics Illinois. Each donation goes to Special Olympics Illinois which is a not-for-profit organization offering year-round training and competition in 18 sports for more than 23,000 athletes with intellectual disabilities and nearly 20,000 Young Athletes ages 2-7 with and without intellectual disabilities. Special Olympics transforms the lives of people with intellectual disabilities, allowing them to realize their full potential in sports and in life. Special Olympics programs enhance physical fitness, motor skills, self-confidence, social skills and encourage family and community support. Like their page to stay up to date with the JPD team car build progress! If you would like to learn more about this event, visit www.soill.org/event/fiveoracing/. Tickets are selling fast so make sure to purchase them ahead of time.