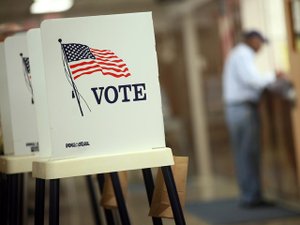 The last day to fill a vacancy in nomination for the November 6, 2018 General Election was June 4. If no candidate for an established party runs in the General Primary, the established party managing committee can appoint a candidate to be placed on the ballot for the November 6 General Election. This candidate must file the correct documentation along with collecting the same amount of signatures required for candidates running in the General Primary.
The candidate list for the upcoming November 6, 2018 General Election is available with the appointed candidates listed at thewillcountyclerk.com. To find the candidate list on the website, use the link under the What's New section on the homepage.
The candidate lists will be divided into different categories: Will County Candidates (County Clerk, County Treasurer, County Sheriff, and Will County Regional Superintendent of Schools), Will County Board Candidates (District 1, 2, 4, 5, 6, 7, 9, and 11), Will County Sanitary Districts Trustees, and Will County Write-In Candidates. Each list will be updated Monday-Friday at 3:30 p.m. The last day for Will County Write-In Candidates is September 6. Federal & State Candidate filings can be found on the Illinois State Board of Elections website www.elections.il.gov.