Nascar weekend at chicagoland speedway set for this weekend
6/27/2018, 4:24 p.m.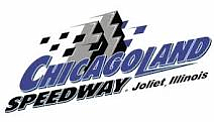 As race weekend rapidly approaches, Chicagoland
Speedway would like to remind racing fans of the ample number of unique entertainment activities taking place as we celebrate the Stars and Stripes Weekend June 28-July 1.
Freedom Walk
In addition to the enjoying the exciting races each day, fans will join in the recognition of our country's service men and women with an omnipresent military theme woven into four days of racing as part of NASCAR Salutes platform.
The patriotic-themed weekend will offer an unforgettable gathering of organizations providing an interactive experience honoring active military and veterans. Champion's Park will include a Freedom Walk, displays of military vehicles from various eras, the Illinois Fallen Heroes Traveling Memorial Wall, an honorary ceremony and multiple war museums throughout the weekend.
Rail Jam
Step Up Productions will add a thrilling element to the entertainment lineup, as their Wakeboard Rail Jam set up will be on display over the weekend. Fans will get up-close and personal with professional wakeboarders as they perform high-flying aerial tricks over the 50' gap that separates the takeoff and the 50,000 gallon landing pool.
Competitors are pulled across the course by a high-speed, gas-powered Konix. This two-tower advanced pulley system allows them to grind over rails and perform dazzling tricks in the air. Throughout the weekend there will be 15 performances.
Kids Activities
Chicagoland Speedway mascot DASH will make regular appearances throughout the weekend as well and will be available for photos with fans. Gaming trucks, face painters, bounce houses and much more will be available for kids each day in Champions Park located at the Kids Club display.
The NASCAR Foundation will bring its Speediatrics Fun Day Festival, which is dedicated to inspiring children to lead a healthy lifestyle, to the Chicago area for the first time on Saturday, June 30 from 9:00 to 11:00 a.m.
Musical Entertainment
Country music sensation Randy Houser will give racing fans of all ages an electric performance during his Overton's 400 pre-race concert.
Joyride
New this year, Route 66 Raceway will offer complimentary race-day transportation provided by Joyride. Joyride delivers "A joyful fan experience" as they assist in transporting fans to and from campgrounds and parking lots. Walking long distances in the hot sun or rain is no longer an issue when Joyride is on site!
To obtain a ride, fans can call 833-654-RIDE or simply flag down a driver. It is recommended to flag or hail down a driver for the fastest service, which will be available Friday - Sunday of race week for no cost.
For the most current information about Chicagoland Speedway, follow www.facebook.com/ChicagolandSpeedway> along with
Twitterhttp://www.twitter.com/chicagolndspdwy and
Instagramhttp://www.instagram.com/chicagolndspdwy @chicagolndspdwy.