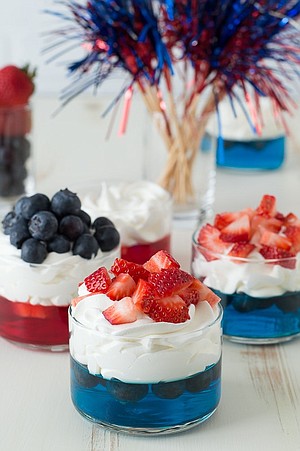 Ingredients:
• Strawberry Jello
• Berry Blue Jello
• Water
• Cool whip
• Blueberries
• Strawberries, chopped
Directions:
For each packet of jello, prepare using 1 cup of boiling water and 1 cup of cold water. You can easily double this recipe - for example if you only wanted to use strawberry jello, you can prepare both boxes of jello at one time in the small bowl, just double the amount of water added.
Pour the jello powder into a mixing bowl. Add in 1 cup of boiling water, and stir for 1-2 to dissolve the mixture. Add in 1 cup of cold water, and stir to combine. Evenly divide the jello mixture among the glasses or cups. I chose to fill my glasses halfway full. If you're using strawberry jello, place chopped strawberry pieces in each glass. If you're using berry blue jello, place blueberries in each glass.
Place the glasses in the refrigerator to set.

Before serving, place cool whip in a piping bag fit with a piping tip . Pipe a layer of cool whip on top of the jello. Top each jello cup with either chopped strawberries or blueberries.