They say dreaming aloud is where reality takes root, enabling one to view life in color. This adage rings true for many, and in the case of The New Hue, its founder has a goal in mind he hopes to evoke.
"It's about positivity," The New Hue founder Chris Braggs said.
On the evening of Saturday, March 24, The New Hue hosted its second annual mixer to highlight the community arts organizations' mission: to support young men of color. The theme this year gave rise to a masquerade ball.
"It's the new hue," Braggs said. "I want to keep it new; I want to keep it fresh."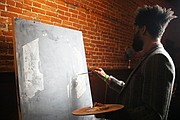 Braggs said people enjoyed the event so much last year, he decided to plan another.
By hosting the mixer, Braggs aims to affect the change that he wishes to see in the world. Scrolling through Facebook in 2016, he saw a lot of negative images of people.
Around that time, he decided he wanted to make a difference by affecting change in the way men of color are represented.
Braggs, who works for Ecolab and does photography on the side, started a blog to showcase his work, all of which aims to shed new light on the way men of color are represented.
"What I wanted to do was grab a guy, an everyday African American male, and let him tell his story, give him a photo shoot, let him write his piece on the blog, and let the world receive it," he said. "I think it's important not only to admire basketball players or whatever rapper you like, but everyday people that you may have grown up with in the same city, but not know their story."
The New Hue hosted its inaugural mixer last year to create a space for people in the community to give back. The money raised at the time was used to support this year's recipient of The New Hue Scholarship Fund. By forming a partnership last year with United in Excellence, an initiative born out of the Joliet Township High School Foundation, Braggs took steps to turn his dream into a reality of affecting change in the lives of young men of color.
"I want The New Hue to be a part of helping further education for young black men, if they want to go into videography, photography or digital media," Braggs said.
Braggs, a lifelong resident of Joliet and class of 1997 graduate of Joliet West High School, said he was invited to United in Excellence's fundraiser last fall and was instantly impressed, so much he decided to get involved.
The New Hue Scholarship Fund will be offering $500 to young men of color this coming fall. United in Excellence provides the criteria for putting this scholarship together, and that initiative partners with the Joliet Township High School Foundation to make it possible.
The New Hue Masquerade Ball this at this years event raised more than $1,000.
Braggs wants community youth to know there are people they may not know that care about their success.
"There's so many negative influences in life that persuade them to go a different direction," he said. "I figure I've done enough to help guide anybody who may be a little bit lost."