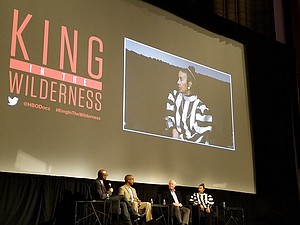 The 50th Anniversary of the assassination of Dr. Martin Luther King Jr. will be recognized this year with the airing of the HBO Documentary, King In The Wilderness, Monday, April 2 at 7pm ET. Drawing on personal recollections of his closest associates, former SCLC Executive Director, US Ambassador to
the UN and former Mayor of Atlanta Andrew Young, King's personal secretary, Xenonia Clayton, personal friend and financial backer Harry Belafonte, strategist C.T. Vivian, Rev. Jesse Jackson and others, combined with archival news
footage and photographs, Emmy Award winning director Peter Kunhardt weaves at times a dark portrait of the final three years of the Civil Rights leader's life.
Beginning with the signing of the Voting Rights Act by President Lyndon Baines Johnson in 1965 to his assassination on the balcony of the Lorraine Hotel in Memphis on April 4, 1968, the film portrays the conflicts surrounding his movement and the personal strife and crisis of confidence he faced in his personal life.
During the time covered in the film, the anti-Viet Nam war movement was emerging among white radical students, the Black Power Movement under Stokely Carmichael was gaining traction in the northern cities, which were on the verge of erupting like a social volcano. Mix into this fermenting
cauldron reports of Dr, King's alleged extra-marital affairs, behind-the-scenes infighting within his own ranks and the ongoing very public debate with the Black radicals and what remains is a very compelling film on a pivotal moment in American history, which still has lingering seismic repercussions.
The biblical parallels to the final days of Christ were not lost on this reviewer. The audience is left to draw their own conclusions as to King's state of mind in his final moments in this powerful and well-structured documentary from a superb filmmaker.