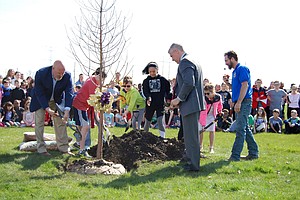 Friday, April 27, 2018 has been proclaimed Arbor Day in the City of Joliet with an official celebration that took place Thursday, April 26, 2018 at Ridge Elementary School, 1900 Caton Ridge Dr. All students participated in the Arbor Day Celebration and tree planting ceremony.

Winners of the "Trees are Terrific" Arbor Day Poster Contest from Ridge Elementary School are: First Grade –Haleigh Schanck Second Grade –Falon Sedivy Third Grade – Stephanie Rodriguez Fourth Grade –Julianne Dunmore Fifth Grade – Dailyn Sanchez
Winning posters will be on display at the school. The National Arbor Day Foundation recently recognized the City of Joliet for achieving the designation of "Tree City USA" for the 27th consecutive year. In 2017, the city removed 3,500 trees primarily due to the Emerald Ash Borer infestation. Eight hundred and seventy-five trees were trimmed and 1,000 trees were planted.