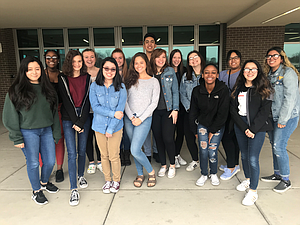 This past weekend, students from Ms. Galloy's Multimedia Journalism 1 & 2 competed against 13 schools at one of the seven IHSA Journalism Sectional events.
Hosted by Naperville Central, there were seventeen individual categories in which West competed for to earn both individual awards and team points. The competition was fierce; however, Joliet West competitors have made an advancement to state!
Senior Mykiyah Jackson placed second in Yearbook Layout: Double-Page Spread, and freshman Louie Mendoza will be joining her in Yearbook Theme Development where they also placed second. Freshman Kelly Rappaport placed third in Copy Editing and will be advancing to state as well. This competition was tough, with 11 other competitors in Copy Editing against Kelly, and 7 against both Mykiyah and Louie.
Rappaport explained, "The opportunity to participate in the state competition is enough to keep me satisfied. Experiencing stiff competition at higher levels will help me grow as a person, and just by qualifying for state I've already won in my mind."
This is Galloy's tenth year advising the Multimedia program and publications, during that time she has helped advance her students each year to the state level. "Joliet West has become a respectable program at the competition level among my Journalism colleagues; I enjoy the competition and chance to challenge my own students and in doing so we've definitely made a name for ourselves," said Galloy.
Other winners from the day include: Freshman Kiersten Jordan, 4th place editorial cartooning; Sophomore Aileen Carranza, 5th place headline writing; Junior Geraldine Jimenez, 5th place infographics; Senior Olivia Apostolovski, 6th place news writing; Senior Anna Eklund, 4th place newspaper design; and Junior Alita Stukel, 5th place review writing. "Most of the students from our team this year were competing for the first time, to earn a place amongst the very best is amazing," said Galloy.
The three state finalists along with their coach, Ms. Galloy, are heading to Eastern Illinois University this Friday for the finals. Joliet West is proud of everyone that went to sectionals, and is rooting for our three state finalists!
Picture: from left to right: Geraldine Jimenez, Diasiia Jackson, Kiersten Jordan, Kelly Rappaport, Val Villaflor, Danielle Durak, Anna Eklund, Alita Stukel, Louie Mendoza, Nicole Barlik, Olivia Apostolovski, Kalilah Howard, Mykiyah Jackson, Daniela Jimenez, and Aileen Carranza.