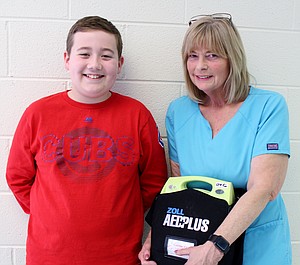 Plainfield – When Lori Thompson dropped her sixth-grade son Jack off at Ira Jones Middle School on February 28, 2018, she never imagined that hours later he would need a team to bring him back to life.
Later that day, an otherwise-healthy Jack collapsed and stopped breathing in Lesley Ebel's math class.
Sixth grade social studies teacher Amy LaJeunesse locked down the school and called 911while Ebel tried to revive Jack.
School nurse Karen Rabe arrived and started CPR on the unconscious 12-year-old boy.
When CPR failed, Rabe, a former Edward Hospital nurse, asked for the school's Automated External Defibrillator or AED unit.
Assistant Principal Kevin Marten brought the unit and Rabe immediately used it. "The actual shock did revive him, instantly," Rabe said. "He took a nice deep breath and came back."
Lori Thompson was at the post office when Rabe called and says she doesn't remember much of the conversation.
Lori and hospital staff praised the work of the Ira Jones staff members.
"Not only did they save Jack but there's nothing wrong with him, physically or neurologically," Lori Thompson said. "It's amazing."
Jack' family is still unclear on what exactly caused him to collapse. Jack himself remembers nothing from that day and knows only what he's been told. Still, he is grateful to the group who saved his life.
"It's wonderful how fast you can do that and get me straight to the hospital. It was very nice," he said.
Jack spent a week in the hospital and is back at school half days, Lori said.
Marten said educators train for these kinds of emergencies but don't often face them. "Mrs. Ebel, Mrs. Rabe and Mrs. LaJeunesse did a superb job of remaining calm and communicating and treating Jack," Marten said.
"What they did that day was truly extraordinary," he said.