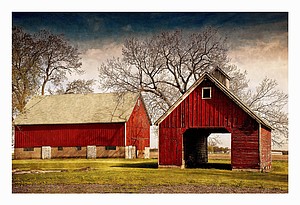 A rustic location that was once a farmhouse will soon be transformed into an elegant wedding reception venue.
The Plainfield Village Board Monday approved the special use permit and site plan
requests for The Farmhouse at 12729 S. Plainfield-Naperville Road. Applicants
Cynthia Payne and Glen Delarosa want to convert the farmhouse at the 127th Street
intersection for a special event venue, such as wedding receptions, bridal showers
and smaller-scale gatherings like an Easter egg hunt, graduation parties, power yoga
and story time hour.
The applicants are asking for a maximum occupancy of 150 guests per event at the
two-story farm house that stands on 3.18 acres. But village trustee Ed O'Rourke was
concerned about the noise that could generate from special events and the impact it
could have on nearby homes.
He even suggested the village consider an amendment that does not allow music to be played on the outdoor patio. But trustees did not support his idea as O'Rourke was the only official who voted against the requests.
"I am concerned about noise to the (nearby residences) to the east of the
structure," he said.
But Payne assured O'Rourke and other village trustees that she and her business
partner plan to be at every event to monitor the noise level from music so as not to
disturb the neighbors.
"This is an upscale venue," she said. "We are not talking about young kids and wild
parties. If we have police showing up all the time (for noise issues), it would not
be good for our business."
Due to the nature of the business, the applicants said it is difficult to set
regular hours of operation. Smaller events during the week can operate from 9 a.m.
to 9 p.m. while larger venues on weekends, like weddings, can be from 9 a.m. to
midnight, they said. Payne said sound tests were also done inside the building to
determine if the noise reached nearby homes, which, she stated, did not.
To alleviate the trustees' concerns, Kendra Kuehlem, associate planner for the
Village of Plainfield, suggests that events conclude an hour before closing as to
allow guests to leave and staff to clean up the premises. The applicants were
amenable to the request.