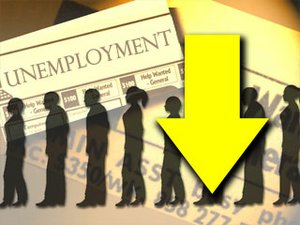 Will County's unemployment rate dipped to 4.6% in March as it continues a steady decline that started from a peak of 7% in March 2016, and below last March's rate of 5%.
That's according to the latest report from Workforce Investment Board of Will County which released its first quarter 2018 numbers this week.
The county had a total of just over 363,000 residents in the workforce in February which dipped to just over 359,000 in March of this year with 420 workers being added to local payrolls. That coincided with increased hiring demand which grew by just over 880 jobs from January (5,438) to March (6,321) in the first quarter of 2018.
Will County's unemployment rate sits about .2% above the state rate and that of neighboring Cook county (4.4%) and is still higher than neighboring Kendall County (3.8%) and DuPage (3.4%). Will's rate bested neighboring counties of Grundy (5.6%), Kane (4.9%) and Kankakee (5.2%) for the quarter.
Job categories with the largest gains included whole sale trades which grew by 6% and added 1,302 jobs in the first quarter as well as 3% growth for the health care sector and 4% growth for both administrative, support, and waste management and the transportation/warehouse categories which both added just over 700 each.
Areas losing workers included declines in mining, information, agriculture, arts and recreation, and management which saw the biggest drop of 8% and a loss of 68 jobs.
Wages have risen with job growth as well with Will County's average monthly income climbing from an average of $3,985 in 2015 to $4,297 in 2017 an increase of $312. Average monthly wages for new hires has grown by $88 going from $2,202 in 2015 to $2,290 in 2017.
The job categories with the biggest pay hikes occurred in finance and insurance (43%), and both manufacturing and health care (16%) as well as retail (15%).
Workforce director Caroline Portlock said that Will County continues to see consistent growth in manufacturing and transportation, distribution and logistics. The growth in opportunities has created a more favorable job market for those looking for work she said.
"We definitely have more positions than we have folks applying for positions," she said.
She said that job growth has helped with wages as competition for candidates for open positions tightens.
"Employers are starting to see the correlation between paying a good wage and keeping good people," she said.
Portlock says that she predicts that freight and logistics as well as health care jobs will continue to grow in the coming months and years in the county. That will mean more opportunities for job training and provide more opportunities for career growth she said.
"Whether they start at an entry-level job, they see themselves remaining with that company or that industry for long-term," she said.
With the state losing just over 33,000 residents in 2017, Will County's job growth could also help attract and retain residents looking to live and work nearer to home.
"In order for us to really serve the businesses of Will County we have to have more folks from Will County employed at local businesses," she said.