Slammers featuring Joliet micro brews at Route 66 Stadium
5/11/2018, 3:29 p.m.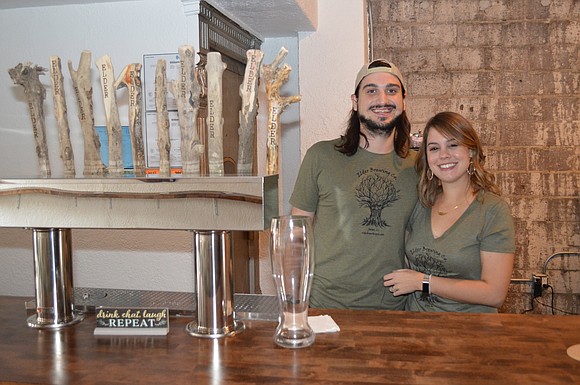 The Joliet Slammers presented by ATI Physical Therapy are excited to announce their partnership with two Joliet breweries for the upcoming season – MyGrain Brewing and Elder Brewing. In addition, the Slammers have added to their current promotional schedule with two jersey auctions and a giveaway night.
Big House Brews, the newly branded left field beer garden area at Route 66
Stadium will feature beers from both MyGrain and Elder. This local
connection was made possible through a sponsorship with the Joliet City
Center Partnership.\
"We are really excited to work with the Slammers this year," said Elder
Brewing Company owner Andrew Polykandriotis. "We thank the Joliet City
Center Partnership for being a true partner and helping to get this set up.
It is going to be a summer of great baseball, and great local beer!"
Vince Turrise, co-operator of MyGrain Brewing added, "MyGrain Brewing Co.
is very excited to announce our partnering with the Joliet Slammers for the
2018 Season! We would also like to thank the Joliet City Center
Partnership, along with the Slammers organization for working with us to
make this possible to kick off the summer with the two "B's" we all know
and love...baseball and beer!"
Big House Brews in left field will be open and available to fans all season
long for fans to try unique beers from the two local breweries.
In addition, the Slammers are building on to their promotional schedule.
Small Business Night powered by ProviNET Solutions will now be held on
Friday, June 29 with post-game fireworks. ProviNET Solutions is a local IT
provider that has simple, affordable Managed IT Solutions to proactively
keep small businesses running smoothly. ProviNET Solutions will manage
business' technology to better allow businesses to focus on other important
areas of the company. The first 1,000 fans on entrance will receive a
ProviNET-Slammers branded water bottle.
Sprint by Aircorp Wireless is the Slammers new partner for Superhero Night
on Friday, July 27. Superhero Night will feature a Slammers superhero
jersey. Jerseys will be auctioned off during the game with funds
benefitting Easter Seals Joliet Region. Pre-game, the Joliet Fire
Department and Joliet Police Department will play in a charity softball
game also benefitting Easter Seals. Gates open at 4:30pm for the 5pm
softball game. The Slammers game will follow, along with post-game
fireworks.
Breast Cancer Awareness Night presented by O'DeKirk, Allred, and Associates
LLC has been added to Friday, August 17, formerly Harry Potter Night. Harry
Potter Night will now be on Saturday, August 18 along with the Boy Scout
Sleepover.
Breast Cancer Awareness night will feature a unique, customized pink breast
cancer jersey up for auction throughout the game. Funds raised will benefit
a local nonprofit. Post-game fireworks will also be on display.
The Slammers open at home on Tuesday, May 15 with $2 reserved seat tickets.
The first fireworks shows of the season are on Friday, May 18 and Friday,
May 25.
To purchase tickets, fans can call the Slammers at 815-722-2287 or visit
the Box Office located at 1 Mayor Art Schultz Drive, Joliet.