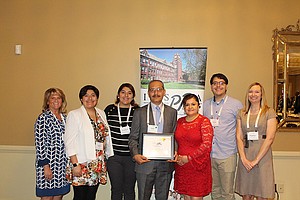 Thetimesweekly.com
The Illinois chapter of the National School Public Relations Association (INSPRA) honored Juan J. Gloria among 37 public education individuals and teams for their outstanding communications work at INSPRA's annual Distinguished Service Awards luncheon at the Bolingbrook Golf Club.
Receiving an Award of Excellence in the "Community Member" category, Mr. Gloria received recognition for his contributions to Joliet Township High School and the Joliet community. He is a dedicated community leader whose partnership supports the achievement of Joliet Township High School (JTHS) Hispanic students through family engagement and communication.
Having emigrated from Mexico when he was 11-years-old, Mr. Gloria experienced culture shock, a language barrier, and disconnect between school, community, and family. With JTHS' population of over 40% Hispanic students, Mr. Gloria leverages his own experiences to support families as they navigate the educational system. To fill the gap in education, especially in the local immigrant community, Mr. Gloria and his brother Victor established Familias Unidas Por La Educación (which means "Families United for Education" in Spanish).
Mr. Gloria has fostered a partnership between Familias Unidas and JTHS since 2015. This partnership includes JTHS students who present educational topics to parents on a monthly basis. In addition, a program has been established where JTHS students provide tutoring in English and Spanish every Friday night at the Familias Unidas meeting location. In turn, Familias Unidas has awarded scholarships to JTHS seniors.