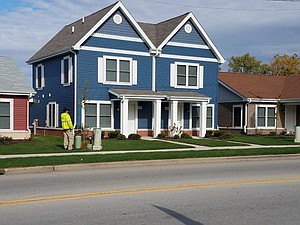 Housing Authority of Joliet announced this week that it has received $10 million in federal funding to construct 42 new homes in the Liberty Meadows subdivision.
The new homes for seniors will kickoff the 4th phase of HAJ's efforts to provide more affordable housing options for low-income residents around the city and will be part of the Liberty Meadows II development.
The HAJ's latest development, Water's Edge, opened in fall of 2017 with 68 new homes that replaced the 122-unit DesPlaines Gardens public housing complex.
The first phase of the Liberty Meadows development includes 116 units with 15 acres of space for future development of the phase 2 housing site near the corner of Briggs and Rosalind Streets.
Development of the 64 acres of land at Briggs/Rosalind first started in 2006 with 36 duplex units and 38 single family homes in phase 1 and 4 duplex units and 38 single family homes in phase 2 on just over 45 acres.
Joliet Mayor Bob O'Dekirk, who along with council member Bettye Gavin, toured the area of the city near the Fairview Housing Complex over the weekend, called the efforts to expand housing options by the HAJ in recent years "a great success."
Housing Authority Commissioner Robert Hernandez, who also attended the tour, said that Fairview is slated to be demolished in late summer or early fall. He said that the application has been submitted to HUD and that the demolition has been given preliminary approval.
Hernandez said that the O'Dekirk and Gavin's tour gave them an opportunity to hear concerns about crime and safety from residents who live near Fairview which the razing of the site, he said, should mitigate.
"Hopefully by September a lot of the issues that exist there, particularly with the escalation of crime, will be in the past," said Hernandez.