German Potato Salad
5/23/2018, 3:12 p.m.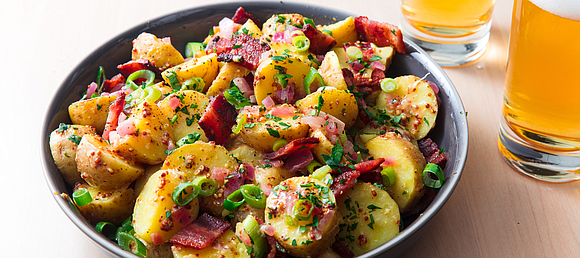 Servings 6: / TOTAL TIME: 40 MINS
Ingredients
2 lb. baby potatoes, halved
6 slices bacon
1 red onion, finely chopped
1/4 c. apple cider vinegar
2 tbsp. water
1 tbsp. extra-virgin olive oil
1 tbsp. dijon mustard
1/2 tsp. granulated sugar
Kosher salt
Freshly ground black pepper
8 green onions, sliced
Directions
In a large pot, cover potatoes with water and season generously with salt. Bring water to a boil and cook until potatoes are easily pierced with a knife, 15 to 20 minutes. Drain and let cool slightly before transferring to a large serving bowl.
In a large skillet over medium heat, cook bacon until crispy, about 8 minutes. Reserve about 2 tablespoons of fat in pan, and transfer bacon to a paper towel-lined plate to drain.
Add red onion and cook over medium heat until starting to soften, about 3 minutes. Whisk in in apple cider vinegar, water, olive oil, dijon mustard, and sugar. Bring mixture to a simmer, then turn off heat and season with salt and pepper.
Stir in green onions and gradually pour mixture over potatoes.
Toss to combine and serve warm.