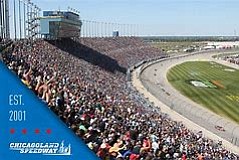 Thetimesweekly.com
Joliet - Chicagoland Speedway will host a military Honor Ceremony during its Stars and Stripes weekend on Saturday, June 30 at 10 a.m. in Champions Park before the running of the NASCAR Xfinity Series Overton's 300.
During this time, event attendees will pause from the fast-paced excitement of the weekend to honor those who serve. Abraham Lincoln National Cemetery Director Quincy McCall (formerly Quincy Whitehead), an Army veteran, will emcee the ceremony.
Figure 1 Congressional Medal of Honor Recipient Allen J. Lynch will be recognized during Sunday's pre-race ceremonies.
All Illinois Gold Star Families of those killed in action are invited guests of Chicagoland Speedway as their loved ones are remembered. The John Whiteside Memorial Squad from the Abraham Lincoln National Cemetery will serve as color guard, and will render honors, followed by "Taps" as the names of those fallen are displayed on screen. Additionally, the Illinois Fallen Hero Wall, will be displayed in the park all weekend.
Prior to the start of the ceremony at 9 a.m., the 23-piece Navy Great Lakes Ceremonial Band will perform. At 9:55 a.m., the Native Veterans Group of Illinois will present three Eagle Staffs while a drummer performs a ceremonial flag song native to that veteran's tribe. Each feather represents a person or people who have given their lives for these lands. The Native Veterans Group of Illinois often present these same Eagle Staffs at Chicago Blackhawks games opening ceremonies.
America's Got Talent singer Sal Gonzalez will perform following the ceremony. Gonzalez, a Marine Corps veteran who lost part of his leg while serving in Iraq, is also known for his work with the Wounded Warrior Project.
More at thetimesweekly.com