Walmart to turn associates into college graduates
5/30/2018, 8:22 p.m.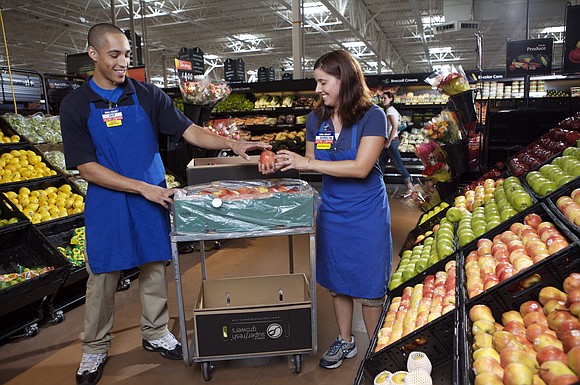 Thetimesweekly.com
Joliet residents who find themselves on the bottom of the employment bin because of a lack of educational experience can now elevate themselves through a program of educational benefits Walmart is offering to its associates.
Walmart has unveiled a new associate education benefit program designed to remove barriers to college enrollment and graduation. The program is yet another step in the company's commitment to train and educate workers to advance in the jobs of today -- and in the future.
In partnership with Guild Education, a leading education benefits platform, Walmart
associates will be able to access affordable, high-quality associate's and bachelor's degrees in Business or Supply Chain Management. Under the program, which will be made available to all Walmart U.S. and Sam's Club associates, Walmart will subsidize the cost of higher education, beyond financial aid and an associate contribution equivalent to $1 a day. Degrees will be offered through the University of Florida, Brandman University and Bellevue University - nonprofit schools selected for their focus and strong outcomes on serving working adult learners.
"Investing in the personal and professional success of our associates is vital to Walmart's future success. We know training and learning opportunities empower
associates to deliver for customers while growing and advancing in their careers," said Greg Foran, CEO of Walmart U.S.
A few highlights of the program include:
AFFORDABLE
Under the program, the associate contribution toward a college degree would be just $1 a day. Walmart will subsidize the cost of tuition, books and fees, eliminating
the need for student loan debt and addressing one the biggest hurdles that keep people from returning to college.
In addition, associates can jumpstart their path to completion by earning college credit for paid training at Walmart Academies. Hundreds of thousands of associates have already undergone skills training
equivalent to more than $210 million in college credits. This will save associates both time and money in completing their degree.
RELEVANT
Walmart selected universities with a specialized focus on serving working adult learners and top outcomes for the working adult demographic. In addition, Walmart is collaborating with these universities to tailor curriculum to relevant skills for jobs and advancement across industries for today and in the future.
ACCESSIBLE
Working with three universities that include both selective and open-access programs, Walmart provides all associates a place to start. The goal is for all
associates who apply for admission to be accepted. These universities have a programmatic dedication to high graduation rates for their students.
SUPPORTED
From day one, associates will receive support from a Guild Education coach on everything from the application and enrollment process to selecting the appropriate
degree. This kind of academic counseling has been shown to help students complete their degree.
"Walmart has kicked off what might be the nation's most scalable approach to creating educational opportunity for America's workforce, now available to its U.S. associates and their families," said Rachel Carlson, chief executive officer and co-founder of Guild Education. "Walmart is also leading innovation at the intersection of workforce development and higher education by helping associates