Joliet Central Alumni Spotlight
Kenneth Strickland, NBC's vice president and Washington, DC Bureau Chief | 11/5/2018, 12:07 p.m.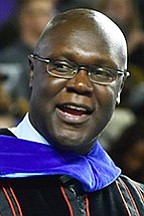 Joliet Central's Class of 1985 alumnus Ken Strickland is NBC's vice president and Washington, DC Bureau Chief. After starting off as an associate producer at Dateline in 1995, he worked his way up the ranks, and now leads NBC's editorial affairs and administration and works closely with NBC executives in his post atop the Washington bureau. His career story was featured on NBC news, available at
https://www.nbcnews.com Strickland is a graduate of Middle Tennessee State University in Murfreesboro, TN with a degree in Mass Communications. Strickland offered this advice to new graduates when delivering a Commencement Address at MTSU to an audience of nearly 9,000 people: "I'm going to tell you how ordinary things can lead to extraordinary outcomes. In a language you understand, that's 'hashtag #ordinaryextraordinary.'"
He then encouraged the new graduates to learn to get along with people, be open to change and be grateful. "A lot of struggle went into getting you here today," he said. "Try to always remember how lucky and blessed you are. Be grateful not only for the extraordinary things in your life but for the ordinary things, too."
His proud parents are Rev. Lishers Mahone, Jr. (Retired Pastor of Brown Chapel A.M.E. Church-Joliet, IL & Joliet Region Interfaith Education Council member) and Mrs. Betty Mahone (Retired Teacher - Joliet Central High School). Kenneth's brother, Lishers Mahone, III graduated from Joliet Central High School in 1994 and Morehouse College in 1998. Lishers Mahone, III, lives in Atlanta, Georgia, and is the Area Manager for the Entertainment Division of Enterprise Rent-A-Car.