Presence Villa Franciscan named to Best Nursing Homes list
11/12/2018, 10 p.m.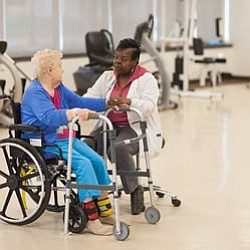 thetimesweekly.com
Joliet - Presence Villa Franciscan, a skilled nursing facility located at 210 N. Springfield Avenue in Joliet owned by Ascension Living, has named by U.S. News and World Report as one of "America's Best Short-Stay Rehabilitation Centers.' U.S. News and World Report identified the Best Nursing Homes for 2018-19 after evaluating more than 15,000 homes nationwide, in every state and nearly 100 major metropolitan areas.
"This designation is a testament to the dedication, personalized care and service provided by every member of the Presence Villa Franciscan team who are driven by a commitment to delivering quality care and living out our mission," said Gayle Trupiano, president and chief executive officer, Ascension Living. "It truly is an honor to have Villa Franciscan as one of the 14 Ascension Living communities nationally recognized by this leading publication."
For the 2018-19 ratings, U.S. News debuted a new Short-Stay Rehabilitation rating. This rating was created to help patients who stay less than 100 days have a better understanding of the quality of care provided by skilled nursing facilities (or nursing homes) to short-stay patients requiring rigorous rehabilitation or skilled nursing care after a hospital stay and before they return home after a surgery, stroke, accident or illness. The Short-Stay Rehabilitation rating was determined by nine measures of facility quality, counting three measures of short-stay outcomes - hospital readmissions, emergency room visits and successful discharges - as well as data on staffing of registered nurses and physical therapists, the number of verified grievances per patient, and other metrics.
"Every year we strive to improve upon the information we offer to caregivers making critical health care decisions for their loved ones," said Ben Harder, Chief of Health Analysis at U.S. News. "We understand that nurse staffing is among the most important predictors of nursing home quality. With our new methodology and Short-Stay Rehabilitation rating, we have taken several steps to ensure that nursing homes that consistently provide high-quality care to residents are highlighted."
To learn more about Ascension Living communities, visit www.ascensionliving.org.