Joliet West Speech Team named first place champions
11/27/2018, 9:27 p.m.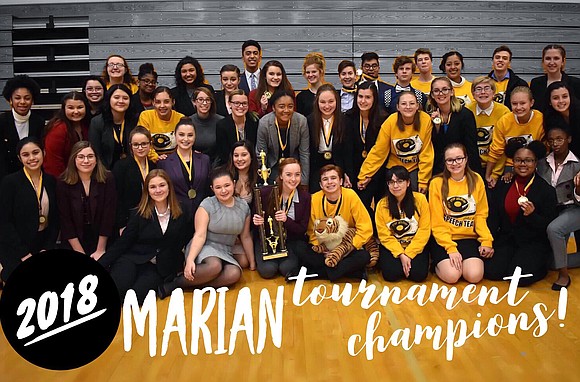 Joliet West High School Speech Team Named First Place Tournament Champions at Marian Classic Tournament The West High School Speech Team achieved an outstanding feat at the Marian Classic tournament on November 10, 2018, earning the title of first place tournament champions in a difficult, competitive contest.
West Speech Team members include Benedicta Anighoro, Erika Balbuena, Tabitha Barowsky, Morgan Beene, Julianna Byrne , Aniya Davis, Kennedy Dorris, Henry Eichstaedt, Amaris Gamez, Crismali Garcia, Josymar Garcia, Jamison Gossen, Teresa Hudgens, Zoe Manning, Hadia Masood, Diego Mateo, Louis Mendoza, Katie Munson, Anthony Nardi, Jemma Newby, Hannah Nordquist, Anna Polacek, Kiera Posteluk, Diamond Reaves, Gabriela Reyes, Kayla Robinson, Kendall Schlegel, Mason Schlegel, Alexis Schofield, Madilyn Schott, Sophia Schrock, Casey Snow, Sara Spreitzer, Kailey Staniszewski, Aliah Teclaw, Tiffany Trizna, Sela Viamonte, Lilia Villaflor, Valerie Villaflor, Alexis Wajda, Maddison Wascom, Jared White, and Molly White.
Kristin Blake, Joliet West Head Speech Team Coach, said, "These kids never cease to amaze me. They continuously make new goals and reach them. This was a great memory for us all as a team."