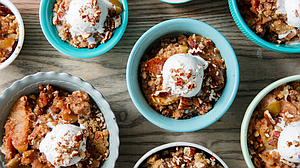 SERVINGS: 8 / TOTAL TIME:1 HR
INGREDIENTS
3/4 c. (1 1/2 sticks) butter, melted, plus more for pan
1 1/2 c. all-purpose flour
1 c. chopped pecans, plus more for serving
1 c. lightly packed brown sugar
1/2 tsp. kosher salt
6 large apples, cored and cut into wedges
1/2 c. granulated sugar
2 tsp. ground cinnamon
1/2 tsp. ground ginger
Juice of 1/2 lemon
Vanilla ice cream, for serving
DIRECTIONS
Preheat oven to 350° and grease a large baking dish with butter. In a medium bowl, whisk together flour, pecans, brown sugar, and salt. Stir in melted butter until texture is coarse and sandy.

Add apples, sugar, cinnamon, ginger, and lemon juice to baking dish and toss to combine. Spread in an even layer, then press crumb mixture on top of apples. Bake until apples are bubbling and topping is golden, about 50 minutes.

Serve warm with ice cream, if using.