Oreo Halloween Funfetti Cookies
10/23/2018, noon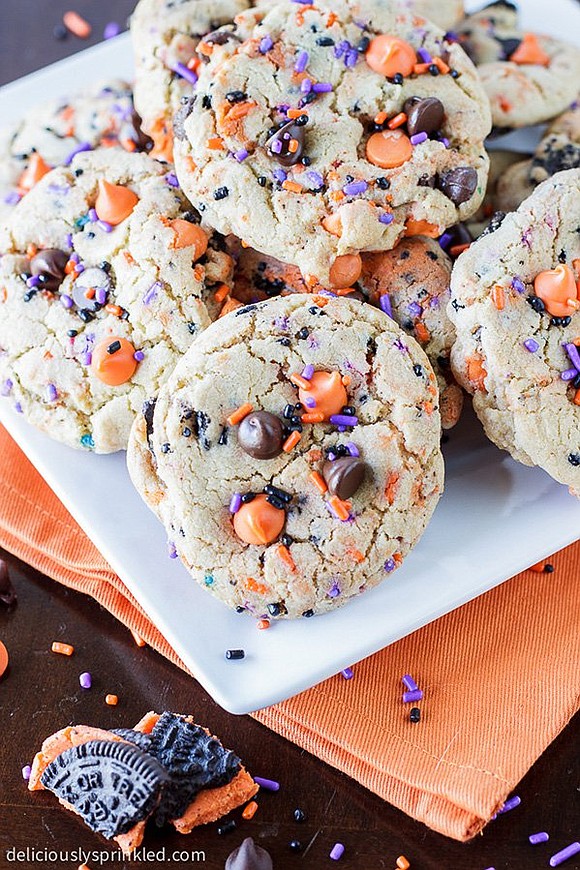 YIELD: 2 Dozen Cookies / TOTAL TIME: 35 min
Ingredients:
• 2 1/4 cups all-purpose flour
• 1 teaspoon baking soda
• 1/2 teaspoon salt
• 12 Tablespoons unsalted butter, softened
• 1/2 cup granulated sugar
• 3/4 cup light brown sugar, packed
• 1 Tablespoon vanilla extract
• 2 large eggs
1/2 cup Nestle® Halloween Morsels
• 1/2 cup sprinkles
• 10 Halloween Oreos, crushed
• additional chocolate chips, for topping
Directions:
PRE-STEP: Preheat oven to 370F degrees. Line two large baking sheets with parchment paper or silicone baking mats. Set aside.
STEP 1: Whisk together the flour, baking soda, and salt in a medium size bowl. Set aside.
STEP 2: In a large bowl, using an electric or stand mixer, cream together the butter, granulated sugar, light brown sugar, and vanilla extract until combined.
STEP 3: Add eggs one at a time, mixing between each egg. Add flour mixture and mix until just combined. DO NOT OVERMIX!
STEP 4: Using a spatula, stir in chocolate chips, sprinkles and crushed Oreos until combined.
STEP 5: Using a cookie scoop, scoop dough into balls about 2 Tablespoons each and place onto prepared baking sheet.
STEP 6: Bake for 10 minutes, rotate baking sheet clockwise and bake for additional 4-5 minutes or until golden brown around the edges.
STEP 7: Immediately after taking cookies out of the oven, place additional chocolate chips on top of cookies, and let cool for 5 minutes on baking sheet before moving them to a wire rack.