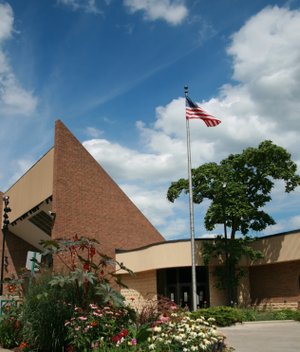 Start a new tradition with us! From tapping-of-the-keg to hammerschlagen to weiner dog racing, don't miss the free festivities for all ages on Saturday, September 15 from 2:00-10:00 p.m. at Billie Limacher Bicentennial Park (201 West Jefferson Street, Joliet). Bring chairs and blankets for lawn seating. Catch the Oktoberfest spirit and slip on some lederhosen, sport a Bavarian cap or don a dirndl.
Oompa music on the pavilion by Jimmy and The Bavarians, ethnic food and free contests will fill the day. But, don't miss the start. Kicking off Bicentennial's first Oktoberfest at 2:00 p.m. will be the ceremonial tapping of the first keg by Joliet Councilman Mike Turk. MyGrain Brewery (located in Joliet's historic Union Station) is providing the keg. It will hold their first Oktoberfest brew. Taste MyGrain's limited craft beer here first, even before it hits their downtown restaurant! Additional brews and wines will also be available.
The park is also proud to celebrate the Bavarian heritage of its founder, Billie Limacher. The many heritages contributing to Joliet are honored on landmarks throughout the park. Those that find the German landmark can get a free water at the park's concession booth.
Food vendors will offer brats, pierogis, hot pretzels, corn on the cob, funnel cakes, pizza, rootbeer floats, popular park "Billie dogs" and more.
Real dogs can also take part of Oktoberfest. The weiner dog race at 2:30 p.m. and is free to enter. It's open to dachshunds and small dogs, if they wear a hot dog costume. Register your dog in advance to drum up their fan base. Owners can give a short bio from the view point of their furry friend. Pictures and videos for posting are encourage, "if you are okay with your dog having more likes than you," smiles Park Manager Lori Carmine. The form is on the website and social media.
Brute strength will be on display at 3:00 p.m. in the free hammerschlagen contest. How far can you drive a nail with one swing into a log? For bragging rights and a prize, compete against your buddy for a little friendly rivalry or nominate someone from your group to compete against another group. To sign up, call 815-724-3761 or email lcarmine@jolietcity.orglcarmine@jolietcity.org.
The following free contests are open to all ages: keg bowling (4:00 p.m.), don't-spill obstacle course (5:00 p.m.), server challenge (see how may full mugs one can carry 20 feet, 6:00 p.m.) and stein-holding (7:00 p.m.). Kids will have their own scaled-down version with rootbeer.
Then at 7:30 p.m., it's a huge chicken-dance! Even if you're in line for a brat, chicken-dance like no one is watching.
People will also be watching for the best lederhosen and dirndl costume contest at 8:00 p.m., also open to all ages. Prizes will be given for most authentic and most creative.
Enjoy the rest of Oktoberfest at Billie Limacher Bicentennial Park until 10:00 p.m., when we bid everyone auf wiedersehen until next year.
For more information, contact Bicentennial Park's website www.bicentenialpark.orghttp://www.bicentenialpark.org or call the office
815-724-3761.
BICENTENNIAL PARK'S OKTOBERFEST EVENTS
2:00 p.m. Tapping of MyGrain Brewery's Oktoberfest beer by Councilman Mike Turk
2:30 p.m. Weiner dog race (dachshunds and small dogs in hot dog costumes)
3:00 p.m. Hammerschlagen (hammer a nail into a log)
4:00 p.m. Keg bowl (adult & kid version)
5:00 p.m. Don't-spill obstacle course (adult & kid version)
6:00 p.m. Server challenge (how many full mugs carried 20´, adult &
kid version)
7:00 p.m. Stein holding (adult & kid version)
7:30 p.m. Chicken dance (everybody, wherever you're standing!)
8:00 p.m. Costume contest for best lederhosen & dirndl (most authentic &
most creative)
10:00 p.m. Auf wiedersehen (farewell) until next year