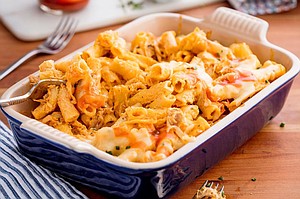 SERVINGS: 4 / TOTAL TIME: 30 MINS
INGREDIENTS
10 oz.
ziti
2 tbsp.
butter
3

cloves garlic, minced
2 tbsp.
all-purpose flour
2 c.
milk
3/4 oz.
(8-oz.) block cream cheese, softened
1/4 c.
hot sauce, such as Frank's RedHot
1 tbsp.
ranch seasoning
2 c.
shredded chicken
1/4 c.
freshly chopped chives
1 c.
shredded white Cheddar
DIRECTIONS
Preheat oven to 350°. In a large pot of salted boiling water, cook ziti until al dente. Drain.

Make sauce: In a large skillet over medium heat, melt butter. Add garlic and cook until fragrant, 1 minute, then add flour and whisk to combine. Add milk and whisk until combined and no clumps remain. Simmer until thickened, 2 minutes. Add cream cheese and break up with a wooden spoon until melted and combined. Add hot sauce and ranch seasoning and stir until combined.

Add chicken, chives, and cooked ziti to skillet and stir until completely coated. Transfer to a baking dish and top with cheddar. Bake until golden and melty, 15 minutes.