USF comes up in U.S. News "Best Colleges" rankings
9/13/2018, 6 a.m.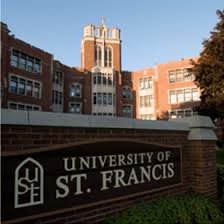 U.S. News & World Report released its "2019 Best Colleges" rankings, and the University of St. Francis in Joliet continues to earn recognition as a top Midwestern university.
USF's "2019 Regional Universities – Midwest" ranking increased to #28 (up from #32 in the 2018 U.S. News rankings) in a year that saw close to half of Illinois schools drop from their previous rankings.
USF was also ranked highly as a "Best Value School" based on overall quality, cost, and aid (#3 Master's University in Illinois and #13 in the Midwest), and was one of only 47 Master's Midwest schools to be awarded the "A+ Schools for B Students" distinction, which is awarded to schools that "admit a meaningful proportion of applicants whose test scores and class standing put them in non-A territory."
"We are pleased that outside organizations continue to recognize the quality of a University of St. Francis education," said USF President Arvid C. Johnson, Ph.D. "While being recognized for our quality in these rankings is exciting, the most important indicators of our success as educators are that our students have a great learning experience, graduate, are considered top prospects by employers, and find jobs that launch their careers."
Other important USF notes gathered from the latest U.S. News rankings include:
USF ranked third among all Catholic Master's institutions in Illinois;
USF's Peer Assessment Score, which accounts for 1/5 of each university's overall S. News rank, rose to 2.8, which is the highest ever for the university, and;
USF was one of only three schools that saw an increase in average alumni giving.
Recent weeks have shown similar praise for USF. The university was recently named in Money magazine's "Best Colleges for Your Money" (#8 in Illinois and #189 in the nation) listing, and College Consensus listed USF in its top ten listing of the "Best Colleges & Universities in Illinois" (#7). The university was also recently named a "Best Midwest College" (non-ranked listing) by the Princeton Review.
For a complete listing of how USF has been rated by various ranking systems, visit stfrancis.edu/nationally-ranked.
The University of St. Francis, in Joliet, Ill., serves 4,100 students nationwide, offering undergraduate, graduate and doctoral programs in the arts and sciences, business, education, nursing and social work.