2020 Kia Telluride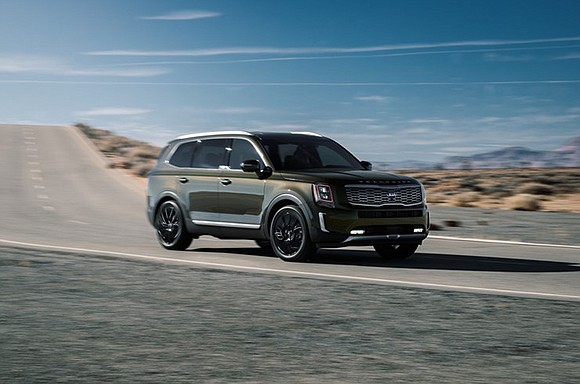 Kia may have hit on the right product at the right time with its all-new 2020 Telluride, a midsize but large three rowed crossover.
We came here to southwestern Colorado to put the Telluride through its paces. We went down Colorado 141 over the Dolores River which cuts through of course the Dolores River Canyon with its 1,200 foot red granite canyon walls. Look beyond and you can see 12,000 foot mountains all round.
Kudos to Kia for picking this place; they could have found a much easier path. C141 is a narrow two-lane twisting affair. We climbed from our base camp, the Gateway Canyons Resort and Spa which was at 5,000 feet up to Telluride (yep, the vehicle is named after the town) which was at more than 9,000 ft.
But I'm ahead of myself. The Telluride is the first SUV designed by Kia in the U.S. specifically for the U.S. market. It was styled in Irvine, California and will be built at Kia's assembly plant in West Point, Georgia.
It is indeed the company's new flagship and they wanted it to be bold and boxy; their words not mine. It is the largest Kia ever built and it can seat seven or eight passengers, depending on whether the second row has captain's seats or a bench seat.
The Telluride had a long broad hood. The design made the tiger grille wider and taller. Dual headlights were stacked; it had inverted "L" taillights with LED stripes. The windshield was upright and the sides were smooth but bulging and that conveyed strength. And there were elongated nameplates on the edge of the hood and on the lip of the liftgate.
This Kia was the real deal. It had skid plates with twin exhaust tips that let you know it can go off-road. Grab handles were integrated into the center console for such occasions. I passed up the off road course in favor of pushing back to basecamp.
Under the hood was a 3.8-liter direct injection V6 that made 291 horsepower and 262 pound-feet of torque at 5,600 rpm. This engine was mated to an eight-speed automatic transmission. It is the only engine available and it gets 20 mpg in the city, 26 mpg on the highway and 23 mpg combined for front wheel drive. All-wheel-drive gets 19 mpg in the city, 24 mpg on the highway and 21 mpg combined.
This engine is why I first thought they could have picked a better place for the Telluride's national launch. Any engine will lose horsepower with altitude, especially if is not getting forced oxygen as in turbocharger of supercharger. A couple of times the Telluride's engine worked hard as we climbed a particularly steep stretch of road. But to be fair, on a straightaway with enough distance, and there were not that many, the pedal got pushed to the metal and our Telluride got up to 120 mph before we let up. Power test passed!
And while I'm at it, the Telluride's handling was spot on. I thought steering was a little loose but the sport utility went where we pointed it without a lot of deviation. What's more, for a vehicle that weighed more than two-tons, the suspension prevented a lot sway and yaw.