Glory: A life among Legends, gives high praise to former Joliet native, dancer Katherine Dunham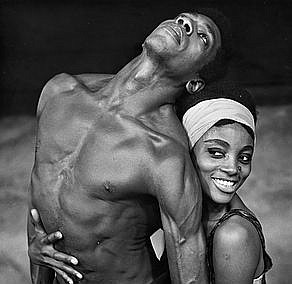 Some, like impresario George Wein, founder of the Newport Jazz Festival, singer and actor Robert Guillame (TVs Benson and the first black Phantom of the Opera onstage!) are well known, others, such as producer and director Vinnette Carroll, Dunham Principal Dancer Vanoye Aikens, Dunham company director Lenwood Morris, choreographer Tally Beatty, soprano Mary Louise and Rev. Melony McGant, who encouraged her completion of the book, have all passed into the firmament of history. Fortunately, they are all given their due in the pages of this lovingly written memoir.
It is Ms. Dunham who had the greatest impact on Dr. Van Scott's early artistic life, and to whom a great deal of the book is referenced. It was with the Katherine Dunham Company that she had her earliest and greatest triumphs. It was also through Dunham and her efforts to produce the Katherine Dunham Gala at Carnegie Hall in January 1979, with the help of a grant from the National Endowment for the Arts and the able assistance of her beloved friend and mentor George Wein, Founder of the Newport Jazz Festival, that she honed her skills as a producer, subsequently giving a lasting stage presence to the greats of her art form.( Ms. Dunham also received the Albert Schweitzer Music Award that night)
Some of the most touching photographs in the book are of the preparations and rehearsals for the gala, with some of the greatest black dancers of all time performing some of Dunham's signature routines.
(Katherine Dunham's life and career is a book unto itself. She was a product of Chicago, and subsequently Glen Ellyn and Joliet, where she attended Joliet Central High School and formed her first dance company and dance school for young black girls. She was one of the first African American woman to attend the University of Chicago and began her exploration of Caribbean and African dance as the basis for a master's degree thesis, for a never-completed degree. She became, however, one of the early exponents of a field hat came to be known as social anthropology. In 1937, she left the world of academia to pursue what became a meteoric career on the stage and screen on Broadway, in Hollywood and the world. The Library of Congress credits her with creating "the first African American Concert Dance Technique" known as the Katherine Dunham Method, one of the most challenging in all modern dance.
Particularly touching are photos of the great Katherine Dunham preparing Dr. Van Scott to play the part of the Queen in a 1980 CBS Television special entitled Divine Drumbeats. Rites des Passage for Dance In America. "I am the only person aside from Katherine Dunham to dance this part," Dr. Van Scott writes. Ms. Dunham insisted on personally preparing her protégé
for the part. A photo of Katherine Dunham gently helping to apply her makeup almost bring tears to your eyes. "She insisted on dressing me. She didn't want anyone else doing that because no one else had ever worn that costume but her. Only her hands had been on it. She painted my face the way she wanted it. It was a moving experience. I cherish it."
Another landmark moment was The Great Gathering Photo taken in the Alvin Ailey Dance Studio in January 2001, which featured all of the dancers, choreographers, educators, scholars and historians aged 50 and older who were the guiding lights of modern dance. "I would have to say that this was truly the greatest day of my life," according to its producers, Aziza.
You too will cherish every moment that you spend with Glory: A Life Among Legends. It illuminates a crucial time in Black history from the perspective of someone who witnessed it first hand. This is a rare opportunity to see the seismic cultural changes that occurred from the 1950's, the turbulent '60s and the black identity movement of the 70s and beyond, through the prism of art. It is a powerful testimony that both illuminates and inspires.