JWHS future business leaders team qualifies for nationals
4/15/2019, 3:46 p.m.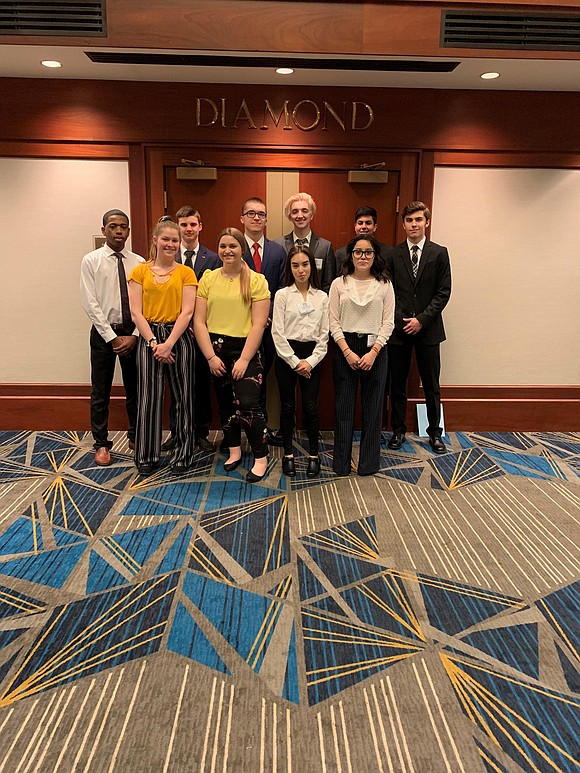 JWHS FBLA had 9 top 10 finalists at state and a team placing 4th and qualifying for nationals is amazing for year 1. On April 4 - 6, 2019, Joliet West High School competed against over 73 schools totaling 1,660 students in various competitions at the Future Business Leaders of State Conference in Springfield IL at Crowne Plaza Hotel. Out of its 13 members, the West FLBA ended up with 9 members taking top 10 honors and three of them qualified for the National Competition in San Antonio, Texas this June in Marketing.
The Future Business Leaders of America (FBLA) is a national organization that provides students with opportunities to become active in a club that prepares them to become community-minded business leaders through relevant career preparation and leadership experiences. The competitions are area, state, and national competitive events. Students compete in a variety of different tests, presentations, or combination of both.
This is the first year that Joliet West High School has ever had FBLA or been to a competition. The following students placed at the FBLA IL State Leadership Conference:
Grace Regal, Ian Van Eck, Snehal Saini: 4th in Marketing, Qualified for Nationals

Mariusz Ferenczak: 6th in Political Science

Sarah Wise: 6th in Business Law

Jalen Gray: 7th in Economics

Daniela Jimenez and Leticia Castillo: 8th in Business Plan

Nathan Seeman: 10th in Personal Finance
Joliet West CTE-Business Education Teacher Neil Lucchetti said, "I am just so proud of how hard our students work and how well they did at this conference. They deserve all of the credit and praise for what they were able to accomplish with so many of them finishing in the top ten."
The next competition will be the National Conference in San Antonio, TX from June 29th to July 2nd. To help support the team's journey to the national competition, please make a donation at https: jthsalumni.nationbuilder.com Pictured: "Squad 2" Second Row: Jalen Gray, Pavlo Yanytskyy, Mariusz Ferenczak, Ian Van Eck, Snehal Saini, Nathan Seeman; First Row: Sarah Wise, Grace Regal, Leticia Castillo, Daniela Jimenez