Joliet Miracle League
8/7/2019, 7:56 p.m.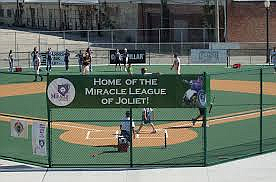 The Miracle League of Joliet's Fall 2019 registration is open until August 19. Season begins September 7, 2019 at the Miracle League of Joliet's field on Clinton Street (within the confines of Dupage Medical Field, where the Slammer's play)

The Miracle League of Joliet gives children ages 4-20 a chance to play baseball on their field of dreams-a rubberized turf field that allow wheelchairs and other aparatus' on the field with no obstacles in their way, so that the child can easily navigate the bases.
The organization also provides buddies for the player. The buddies are with the child throughout the games to help him/her with batting, getting to the bases, playing outfield and just being a friend in the dugout.

Registration can be down on line at their website- miracleleagueofjoliet.com There is a registration fee.
If you have questions call 815 258-3799.
If you are interested in becoming a buddy, you must be 12 years old or older we are always looking for adults too. Buddy registration can also be down on the website.