2020 Hyundai Palisade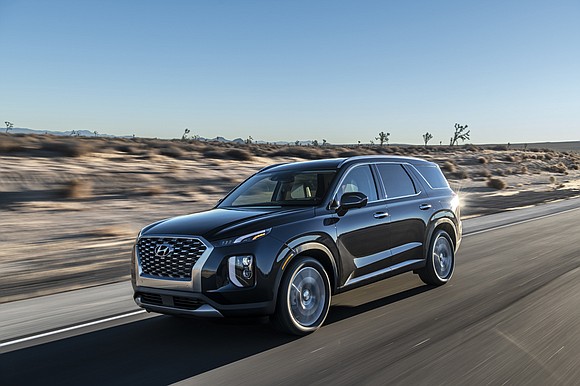 A wide dash gave the appearance of being a wraparound but it wasn't. And the interior trim was made to look like wood but it sure didn't feel like timber. When we test drove the all-wheel-drive model, the interior trim looked like sparkling piano black. Sometimes you can try too hard. And neither interior worked for us. But design is subjective; somebody else could think it looks great. Besides, they said there were four interior choices, we only tried two.
There were all sorts of creature comforts: 16 cupholders, seatbelt connection notification for every seating position and one-touch operation of the second row seat forward to access the third row. The second row captain's chairs can be heated and cooled, the third row seats can bepower-folding, unfolding and reclining seats, and there was a conversation mirror to allow the driver to clearly see rear seat passengers; think kids.
There was an intercom system that allowed the driver to communicate separately with the second and/or third row via the Palisade audio system. It also included a rear seat quiet mode that allowed the front row passengers to listen to their selected audio without that same audio being transmitted to the second- and third-row audio speakers, so that potentially sleeping passengers will not be disturbed.
Hyundai said the Palisade had a class-exclusive blind view monitor that provided easy-to-see body-side views whenever the turn signal was activated. We saw it but paid no attention on the test drive which was chock full of rural roads. But it was there if needed.
The audio and navigation display was a generous 10.25-inch touchscreen in widescreen format. It was coupled with a 12.3-inch fully-digital TFT centered instrument cluster offering various view modes and differentiated drive mode illumination.
Two Bluetooth® devices can be connected simultaneously, with one for a mobile phone connection and the other for audio streaming. The single instrument panel gauge cluster integrated with navigation offers exceptional legibility and ease of use, coupled with an available heads-up display feature.
And we got lost. We used voice controls and told the Palisade where we wanted to go, sat there for about five seconds and it came back and had inserted a route into the navigation system.
The all-wheel-drive Palisade had torque vectoring. In snow mode it will pre-distribute traction to resist wheel slip. And either in front wheel drive or all-wheel-drive, the vehicle can tow up 5,000 lbs.
There was what is rapidly becoming normal: satellite radio, Android Auto, Apple CarPlay and of course the navigation system.
There was a heads-up-display that featured information like speed, smart cruise control status, navigation, blind-spot collision avoidance assist, forward collision-avoidance assist, speed limits and lane following assist.
In this price range there was Forward Collision-Avoidance Assist with Pedestrian Detection, Lane Keeping Assist, Lane Following Assist, High Beam Assist, Driver Attention Warning and Smart Cruise Control with Stop and Go.
On sale now, the 2020 Hyundai Palisade stair steps it way from $31,550 for the front-wheel-drive SE to $46,400 for the all-wheel-drive Limited. Remember to add the $1,045 freight charge. The middle trim line is the SEL. Base prices are $33,500 for the FWD model and $35,200 for the AWD version.
Hyundai continues to roll out top notch models and reasonable prices.
Frank S. Washington is editor of AboutThatCar.com