Plainfield Parks photo contest Dog Days of Summer
8/12/2019, 9:26 p.m.
The Plainfield Park District is celebrating the end of summer with a photo contest that's gone to the dogs.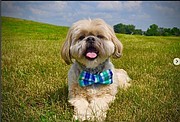 Snap a pic or two of your four-legged friends at one of our dog parks and then share it with us on social media using the hash tag #PPDpets between Aug. 1 and Aug. 31.
The most "pawsome" pictures will be picked to win a Park District Doggie Prize Pack.
Park District Dog Park Locations:
• Clow Stephens | 16650 S. Lily Cache Rd., Plainfield
• Van Horn Woods East | 17200 S. Frontage Rd., Plainfield
• Daisy Dog Park | 13214 S. Blakely, Plainfield (on 135th St. approximately ½ mile west of Route 30.)
The Rules:
• Photos must be taken and shared between Aug.1 and Aug. 31
• Share publicly on Facebook, Twitter or Instagram using the hash tag #PPDpets
• Submissions can also be sent to stein@plfdparks.org.
• Physical prints can also be dropped off at the Rec/Admin Center, 23729 W. Ottawa St. (Please include the name of pet, human, phone number and email address on the back.)
• By submitting photos, contest participants are agreeing to allow the use of their photos on Plainfield Park District social media accounts, its website, and in future Park District print advertising and activity guides
• Winners will be notified through their social media accounts or email address