Manley backs equal pay legislation
2/7/2019, noon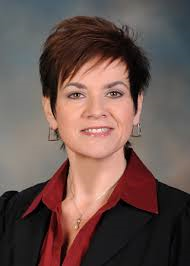 Romeoville - State Rep. Natalie Manley, D-Joliet, is again sponsoring legislation that would prohibit employers from asking job applicants about their salary history.
"The fact that women and minorities do not receive equal pay for equal work continues to negatively impact those individuals and their families," Manley said. "When potential employers ask someone about salary history, it continues the cycle of paying women and minorities less for performing the same duties as other employees. This legislation will help to get at some of the root causes of salary inequality."
Manley is a co-sponsor of House Bill 834, which prohibits companies from asking for applicant wage histories. Additionally, the measure increases the amount in which businesses can be penalized for failing to follow equal pay laws from $2,500 to $10,000. Manley previously supported similar legislation, which was vetoed by former Gov. Bruce Rauner.
"Ensuring that all people are paid fairly for their work is essential to increasing opportunities for families in our community," Manley said. "I am very glad that Gov. Pritzker recognized the importance of equal pay for equal work and made it a priority. I look forward to seeing this legislation signed into law to provide equality and stability to women, men and families throughout our community."