Sticky Orange Chicken
2/22/2019, noon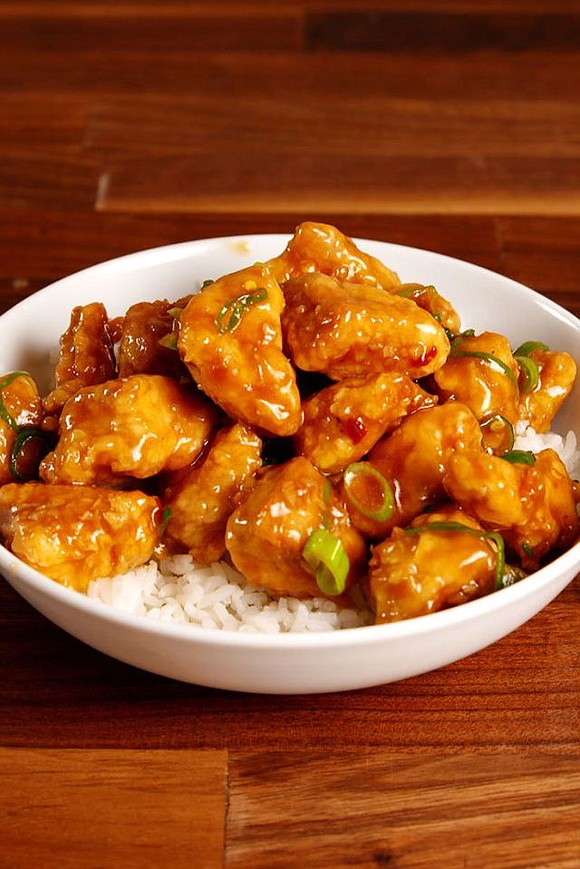 YIELDS:4 / TOTAL TIME: 35 MINS
INGREDIENTS
2 large eggs, beaten
1/2 c. plus 1 tbsp. cornstarch, divided
1/4 c. all-purpose flour
Kosher salt & ground black pepper
2 lb. boneless skinless chicken breasts, cut into 1" pieces
Canola oil
2 cloves garlic, minced
1/2 tsp. freshly minced ginger
1/2 tsp. crushed red pepper flakes
2/3 c. freshly squeezed orange juice
2 tbsp. low-sodium soy sauce
1 tbsp. apple cider vinegar
2 tbsp. sweet chili sauce
2 tbsp. hoisin sauce
1 tbsp. brown sugar
Juice of 1/2 lemon
2 green onions, thinly sliced
Cooked white rice, for serving
DIRECTIONS
Set up dredging station: In one bowl, add eggs, and in a second bowl, mix together ½ cup cornstarch and flour and season with salt and pepper. Coat chicken pieces in egg, then toss in cornstarch mixture, tapping off any excess.

In a large, deep skillet over medium-high heat, heat ¼'' oil. Fry chicken in batches until golden and crispy, 4 to 5 minutes. Drain on a paper towel-lined plate.

In a saucepan over medium heat, heat 1 tablespoon oil. Add garlic, ginger, and red pepper fakes and cook 2 minutes. Whisk in orange juice, soy sauce, apple cider vinegar, chili sauce, hoisin sauce, brown sugar, and lemon juice and bring to a simmer.

Meanwhile, in a small bowl, whisk together remaining tablespoon cornstarch with 2 tablespoons water. Slowly whisk into sauce to thicken and simmer until sauce is syrupy, about 5 minutes.

Toss chicken with sauce and green onions. Serve over rice.