2019 Hyundai Santa Fe Ultimate 2.0T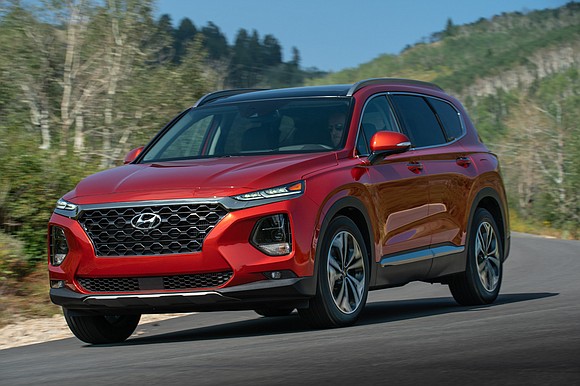 There have been some big changes for the 2019 Hyundai Santa Fe. The five-passenger Santa Fe Sport is now called Santa Fe. The current long wheelbase three-row, seven-passenger model called Santa Fe has been renamed Santa Fe XL. And an all-new three-row, eight-passenger SUV is currently under development and will carry an all-new name.
What's more, the Santa Fe crossover that I test drove had a bolder design, new safety, comfort and convenience technology, and better sight lines and cabin storage space. All of that is a long-winded way of saying the Santa Fe has been reworked for the better.
The first thing I noticed about the 2019 Santa Fe was the quiet smoothness of the engine. Its ride was silky, much like an all-round air suspension. Instead, the 2019 Santa Fe had a multi-link with gas shock absorber and 24 mm stabilizer bar w/self-leveling suspension.
I had the top-of-the-line 2.0-liter direct injected turbocharged four cylinder engine that made 235 horsepower and 260 pound-feet of torque at a low 1,450 rpms. In other words, the Santa Fe 2.0T could get up and move from just about any speed. It had an EPA rating of 19 mpg in the city, 24 mpg on the highway and 19 mpg combined.
The engine was mated to an all-new eight-speed automatic transmission. Despite having two extra gears, the new eight-speeder, which was designed in-house, was lighter than the outgoing six-speed model. The automatic transmission added ratio range at both the top and bottom of output speeds allowing for extra thrust off-the-line and a quieter, more fuel-efficient dash down the interstate.
My test vehicle had an all-wheel-drive system that Hyundai called advanced. It was developed as a multi-mode scheme that provided an electronic, variable-torque-split clutch with active torque control between the front and rear axles.
The 2019 Santa Fe had an overview camera and a stop start system that was so smooth I never turned it off because of irritation. That's rare.
The driver-selectable normal, sport and smart drive modes aided traction control in all weather conditions. Given that we got bunches of snow, followed by warmer temperatures and the accompanying slush and wet pavement and then followed by refreezing during the test drive, I left the drive mode in smart and I don't think there was even any wheel slippage much less wheel spin.
Still, I could sense the slick ride, comfort, handling and stability of the 2019 Santa Fe. Hyundai said they were achieved through a change in suspension geometry. The major adjustment came when engineers moved the rear shocks from an angled position to upright, improving the ride and handling no matter the driving conditions.
The Santa Fe featured Hyundai's cascading grille and composite light design with LED daytime running lights positioned on top of the LED headlights. The midsize crossover had a wide stance and it looked athletic. Hyundai keeps calling the Santa Fe an SUV but I'm not sure it can go off-road.
Its character line went from headlights to taillights and what the automaker called a daylight opening with satin surround that provided better visibility. I called it windows. There was also diamond cut 19-inch wheels. The rear featured a muscular high and taut shape. There was also a panoramic sunroof that of course never got used but I did let the shade back.