Varsity Steelmen Cheerleaders qualify for 2019 IHSA State Competition
1/30/2019, 6 a.m.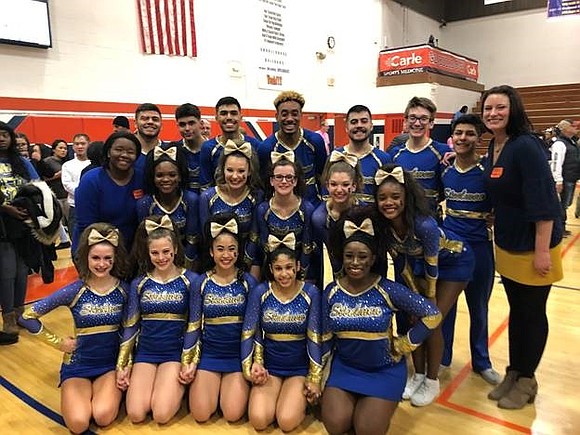 On January 26, 2019, the Varsity Steelmen cheerleaders qualified to compete in the IHSA Competitive Cheerleading State Competition. They received 3rd place out of 10 teams in the Coed Team - 2 Division at the IHSA Cheer Sectional at Mahomet-Seymour. This is the first time they have qualified since 2012.
Coach Reeder said, "The coaches are ecstatic for the team and the Joliet Central High School community. Our athletes have used every ounce of determination and mental toughness to ensure that they go to state this year."
The Varsity team is coached by head coach Jessica Reeder and assistant coach Danielle Corcoran. The Varsity Steelmen Cheerleaders are Jordan Abernathy, Briana Bulian, Jayla Crawford, Tahlea Coble, Angelina Del Rose, Adan Escobedo, Jose Fonseca, Jose Gonzalez, Leo Gonzales, Amaria Hickman, Lauryn Luangsomkham, Nicole Meadows, Ramon Rocha, Nikki Siok, Vann Sturdivant, Ma'Khyliah Tyler, and Abbie Wisslead.
The IHSA Competitive Cheerleading State Competition will take place with the Preliminary Round on Friday, February 1 and the Final Round on Saturday, February 2 at the Grossinger Motors Arena in Bloomington. All preliminary and final performances will broadcast live on the NFHS Network at www.IHSA.tv by presenting sponsor COUNTRY Financial.
Pictured:
Front row: Abbie Wisslead, Briana Bulian, Lauryn Luangsomkham, Taleah Coble, Amaria Hickman
Middle row: Head Coach Jessica Reeder, Ma'Khyliah Tyler, Nicole Meadows, Nikki Siok, Angie Del Rose, Jayla Crawford
Last Row: Jose Gonzalez, Adan Escobedo, Ramon Rocha, Jordan Abernathy, Jairo Fonseca, Vann Sturdivant, Leo Gonzales