2019 Lincoln L Navigator 4X4 Black Label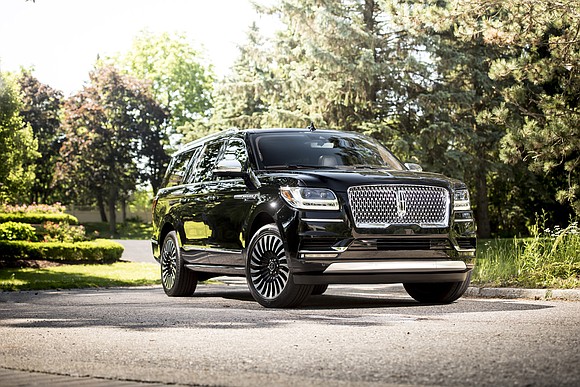 Lincoln is crafting a new identity that just might lift it from the ranks of second tier luxury brands.
We test drove the 2019 Lincoln L Navigator Black Label and were duly impressed. The question is not whether it was good but how good it was. Where to begin?
From the distinctive honeycombed grille with the Lincoln badge in the center which is now the face of the brand, to the family of powerful V6 engines that propel Lincolns down the road, the brand has taken some impressive steps.
A close inspection of the grille revealed the honeycombs to be outlines of Lincoln's rectangular badge. The body on frame constructed Navigator was loaded with little details like that that illuminate a step up in thinking on the part of the brand's engineers and designers.
First of all, the 2019 Lincoln Navigator L was big. The wheelbase was 131.6 inches, compared to a regular Navigator at 122.5 inches. Overall length was 221.9 inches compared to a regular Navigator at 210 inches. But let's be clear, the Navigator has left the realm of regular.
The Navigator L 4X4 weighed three tons, 6,056 lbs. to be exact. It takes a lot of brute force to move that much weight. But Lincoln put the Navigator's power in a velvet glove. Under the hood was a twin turbocharged 3.5 liter V6 that made 450 horsepower and a diesel-like 510 pound-feet of torque at 3,000 RPMs. The engine was mated to a ten-speed automatic transmission with paddle shifters and it could tow up 8,100 lbs.
This powertrain moved the Navigator L with little or no effort. I never heard the engine. The vehicle had that force of personality that changes the natural inclination of the driver. There wasn't much hard acceleration or powering through curves. It was quiet, the suspension certainly smoothed out the road, and there were drive modes to deal with all sorts of road conditions and the V6 when idling sounded like a V8.
With a sharp turn of the wheel we could feel the girth of the Navigator L and also feel that it was a very sumptuous sport utility sitting on a truck platform. But other than that there was nothing to indicate its weight or the chassis it rode on. The engine could and did move the Navigator with ease.
Lincoln has created a luxurious trim line. It is called Black Label. On the Navigator there are three choices: the test vehicle was chalet. It was a combination of Espresso and Alpine Venetian leathers and deep Silverwood appliques. Not only is Black Label Lincoln's top trim level it come with a personal service membership.
Privileges include personalized shopping with dedicated personnel on the showroom floor, online or remotely – in locales convenient to Black Label customers. Extended premium service and maintenance coverage, anytime car washes, annual detailing and a culinary collection membership with access to select restaurants nationwide is also part of the deal.
There is a travel collection with an invitation-only Avis President's Club membership. A four-year/50,000 mile premium maintenance plan with all recommended service and wear item is also part of Lincoln Black Label. It features complimentary pickup and delivery within a 50-mile radius. And they keep adding stuff.