Vesuvio Wines – The gift of volcanic wines from Campania Italy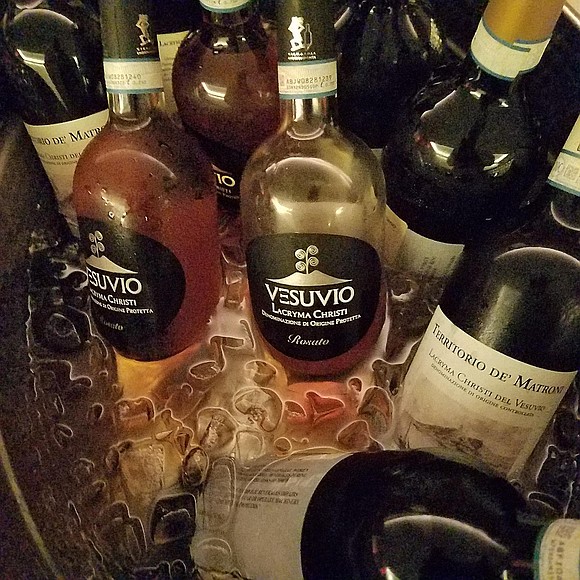 Among the many new wines appearing on shelves in fine wine shops and on wine lists in savvy restaurants around the country are the wines of the Campania region of Italy, which is situated along the southwestern coast of Italy near the capital city of Naples. It's one of the oldest wine growing regions of Italy dating back to the Greeks who first cultivated grapes there in the 8th century B.C. It became part of the Roman Empire when the Etruscans incorporated it and began cultivating wine in the 4th century B.C. After that, the land became subject to an alphabet soup of overlords, including the Visigoths (yes, there were such people outside of the old Prince Valiant comic strips), Lombards, Byzantines, Normans, Spanish, Austrians and French. The region finally became part of the Italian unification of the late 19th century, a definite turning point.
The story of Campania wines reads like the libretto of an Italian opera. Born of tragedy, the grapes are nurtured in the mineral rich volcanic soils left behind by the cataclysmic eruption of the volcano Mount Vesuvio, which destroyed Pompeii and Herculaneum in 79 AD. The wines remain unchanged to this day, made primarily from the indigenous grapes of the time, which were rendered free of the Phylloxera virus, which destroyed the majority of the indigenous grapes in all of Europe because the virus can't survive in ash. Thus, these local varietals, with names that sing out like a Neapolitan opera, Lacryma Christi del Vesuvio (the tears of Christ of Vesuvio), Campi Flegrei, Ischia and Capri DOCs., along with Falanghia and Galluccio, another primary DOC, have survived to be nurtured today. Add in the names of Greco di Tufo and Fiano, Biancolella, Forastera, Olivella and Coda di Volpe, named for their shapes, the olive and fox's tail respectively, and you have a thumbnail sketch of the rich and varied wines that account for these food-friendly wines. Aspirino is the foundation of the regions local sparkling wine, Asprinio di Aversa. It's a refreshing, lighthearted aperitif that literally dances on the tongue, much like the feel of pronouncing its name.
The wines of Vesuvio DOC are all made with organic and sustainable practices, another plus.
A handful of the wines have been introduced to the United States and will be available in coming weeks on restaurant wine lists and at fine wine retailers near you. The wines are best with foods readily associated with the city of Naples and the Campania region. Try anything made with fresh tomatoes or basil, such as a spicy tomato sauce with fresh basil, grated Parmesan cheese or a lasagna-type layered casserole made with Baccala (salted cod fish) olives, and, of courses, fresh tomato sauce. A dessert favorite is Rum Babba with a nice coffee or chocolate flavored Biscotti as a crunchy aside with a glass of two of Aspirino. Buon Appetito!
These are just a few of the wines of Vesuvio DOP that you may encounter:
-Lacryma Christi del Vesuvio bianco from DeFalco Vini-$18