Vesuvio Wines – The gift of volcanic wines from Campania Italy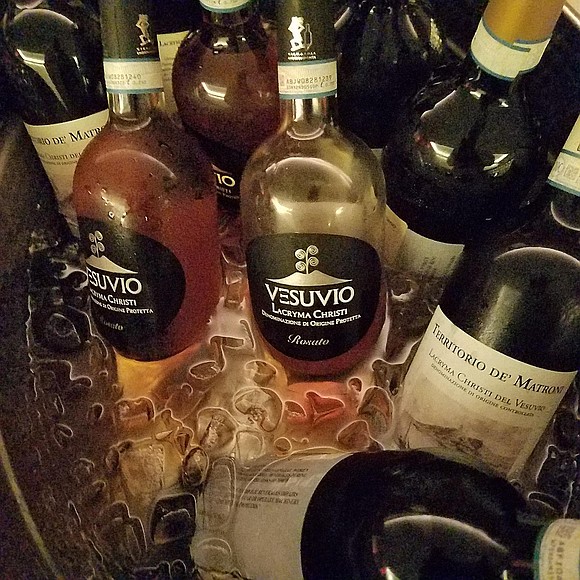 The wine is made from the region's flagship Lacryma Christi grape, which is grown at a very high altitude in rich, volcanic soils. The grapes are picked by hand and pressed very softly and fermented at consistently cold temperatures to preserve the intense fruit character of the grapes. The result is an intensely flavorful wine bursting from tropical fruit and citrus flavors with hints of pineapples, banana and peach nectar. The volcanic soils give the wines an added boost of mineral flavor and structure, making it perfect with a hearty meal of fatty white fish, shellfish and rich tomato sauces and flavorful cheeses. This is a wine to serve with pride at any meal.
-Cantine Matrone Territorio de' Matroni DOC 2016-$25
This is a wine created from old vines indigenouse Piedirosso and Aglianico grapes from there estates own Monaco and Camoanariello vineyards. The soil is a volcanic mix of sand, lava and basalt, giving it a rich mineral base. Cold Fermented in stainless steel tanks with natural yeasts for two weeks on the skins to give it richness and color, it is then pumped over where it undergoes spontaneous malolactic fermentation for a total of three weeks fermentation. The wine is then allowed to age in large wooden tanks for 14 months before resting again for 10 months in stainless steel. The result is an unmistakably local wine bursting with rich, dark berry flavors and overtones that hint of the tastes of olives and local capers, a bit of white, black and green peppercorn blend, a touch of licorice and a surprising afternote of balsam, perhaps from the underlying richness of the volcanic soil. If you're a fan of game meats, like venison, pheasant of duck, this is the wine for you. But its equally at home with spicy Asian or Indian dishes or even your favorite down-home Chile recipe!
-Cantina del Vesuvio Lacryma Chirsti Rosato DOC 2018-$22.99
The wine gets is captivating color from gently pressing the grapes in order to also preserve the kaleidoscopic range of aromas and fruit flavors from its 100% Aglianico grapes which is aged entirely in stainless steel tanks. Aromas of a bouquet of fresh cut flowers are followed with the flavors of white peaches, honey, strawberries and raspberries with just a hint of honey colored raisins. This is a surprisingly complex wine that goes beautifully with grilled fish, a platter of mixed cheeses, salamis and hams and a whole range of light meats and vegetables taken right off the grill. This is truly the wine of summer.
-Russo Family Black Label Line Vesuvio Lacryma Christi Rosso DOP Riserva
2014-$24 Ruby red, like the lava of Vesuvius, this is an unbelievable value considering the complexity of this beautifully made wine. Made from indigenous grapes grown in rich, volcanic soils that basked in warm afternoon sun and cooled nights and mornings by Mediterranean breezes, it was then fermented in stainless steel and allowed to age in small oak barrels 6 months before resting another 6 months in the bottle. This is a wine that truly represents the tradition of fine winemaking in the Vesuvio. Enjoy it with aged cheeses and rich meat sauces, or for a variation, a vegetable lasagna made with fresh eggplant, basil and rich tomato sauce and a hearty mix of soft cheeses. Sprinkle in a layer of crushed olives to give it an added zing. That will bring out the rich, complex flavors of the wine.